Medical marijuana may reduce opioid overdose death rates, International Overdose Awareness Day is coming, the drug war claims another victim, new studies from the NIJ, and more. Let's get to it: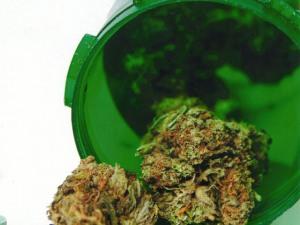 Medical Marijuana
Medical Marijuana States Have Lower Opiate Overdose Rates, JAMA Study Finds. States with medical marijuana laws have significantly lower rates of opiate overdose deaths than states that don't, according to an article published Monday in the prestigious Journal of the American Medical Association. The article is Medical Cannabis Laws and Opioid Analgesic Overdose Mortality in the United States, 1999-2010.
Illinois Seeks Nominees for Medical Marijuana Advisory Board. The state medical marijuana program is looking for health professionals and patients to serve on its advisory board, which will be appointed by the governor. For more information, visit the Illinois Medical Cannabis Pilot Program.
New Mexico Cannabis Medical Advisory Board Holds Public Hearing on Proposed New Rules. The state's cannabis program's Medical Advisory Board (MAB) held a public hearing yesterday on proposed rule changes to the program. The MAB is frustrated that the Department of Health did not formally consult with it before releasing proposed rule changes, which have garnered unhappy responses from patients and providers.
Harm Reduction
August 31 is International Overdose Awareness Day. In Los Angeles, members of A New PATH (Parents for Addiction Treatment and Healing) are hosting an event at the Santa Monica Pier and Palisades Park. Click on the title link for more details. For details on other Overdose Awareness Day events, visit International Overdose Awareness Day.
Drug Testing
Maine Welfare Drug Test Program Gets No Support at Public Hearing. Health and Human Services Commissioner Mary Mayhew told a public hearing on Gov. LePage's (R) welfare drug testing plan that it was a "common sense approach," but no one else seemed to agree. The ACLU of Maine and Maine Equal Justice Partners vehemently differed. The drug testing scheme, which had been okayed in 2011, but which LePage just rolled now as he faces reelection, would require people with past felony drug convictions to be tested before being approved. A written public comment period is open through Sept. 7, after which Attorney General Janet Mills, a Democrat, will need to sign off on whether the final rule complies with federal law and the intent of the original state-level legislation.
Drugs and Crime
National Institute of Justice Releases Reports on Crime and Drugs. The National Criminal Justice Reference Service at the National Institute of Justice has released five technical reports on drugs and crime. They are: How Much Crime Is Drug-Related? History, Limitations, and Potential Improvements of Estimation Methods, Reducing Drug Violence in Mexico: Options for Implementing Targeted Enforcement, Measuring the Costs of Crime, Drug Control and Reductions in Drug-Attributable Crime, and Managing Drug-Involved Offenders. Click on the title link for more details.
Law Enforcement
Puerto Rico Police Officer is Year's 30th Drug War Fatality. Puerto Rican police officer Geniel Amaro Fantauzzi died Monday after being taken off life support six days after he was shot and critically wounded during a drug raid at a residence. He was an agent of the Humaco Drug Division.
International
Colombia Drug Policy Talks Get Underway. The National Dialog for the Future of Drug Policy got underway last Friday in Bogota. The meeting with members of academia, political groups, and unions is the first of 10 national and regional forums organized by the ministries of Justice, Health and Social Welfare, and Public Affairs. In the first forum, a survey of 61 recognized drug experts was presented, with all 61 saying drug policy "must change" and 42 of them considering current policy "ineffective, costly, and repressive."