DC will vote on legalizing marijuana possession and cultivation, two more Michigan towns vote to decriminalize, Maine's governor unveils a plan to force people with drug felonies to undergo drug tests before getting welfare benefits, an Austrian marijuana legalization initiative gets underway, and more. Let's get to it: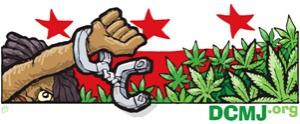 Marijuana Policy
DC Marijuana Initiative Makes November Ballot. The DC Board of Elections today officially certified for the November ballot an initiative that will legalize the cultivation and possession of small amounts of marijuana. DC now joins Alaska and Oregon in voting on marijuana legalization. The campaign needed some 23,000 valid voter signatures to qualify for the ballot. It had turned in more than twice that number of raw signatures.
Advocates Launch Vermont Coalition to Regulate Marijuana. The Marijuana Policy Project has formed the Vermont Coalition to Regulate Marijuana in a bid to influence the legalization debate there. The state legislature has authorized a study of the issue, but the coalition has been formed "to make sure we get the entire state talking about the potential benefits of marijuana regulation." [Editor's Note: The web site in the title link doesn't appear to be live yet, but should be soon.]
Two Detroit Suburbs Vote to Decriminalize Pot Possession. Residents of the Detroit suburbs of Hazel Park and Oak Park voted Tuesday to approve municipal charter amendments decriminalizing the possession of up to an ounce of marijuana. Nine other Michigan cities, including Detroit, have done the same since 2010. Another dozen or so will likely vote on similar initiatives this fall.
Medical Marijuana
New Mexico Veteran Sues Employer for Wrongful Firing. A veteran and licensed physician's assistant who is enrolled in the state's medical marijuana program is suing Presbyterian Health Care Services after being fired for testing positive for marijuana. When she provided them with her state-issued medical marijuana card, they informed her that they did not recognize it and that her termination would stand. The lawsuit has just been filed in state court for violation of the New Mexico Human Rights Act (NM Statute § 28-1-7).
Drug Testing
Maine Governor Announces Plan to Drug Test Convicted Drug Felons Who Apply for Welfare. Gov. Paul LePage (R) announced today that the state will start forcing people with drug felonies to undergo and pass drug tests before they can apply for or receive welfare benefits. The move is authorized under a 2011 law that had never been implemented. LePage and legislative allies had tried to pass a bill mandating drug testing for all welfare recipients, but failed. LePage is making welfare his signature issue as he runs for re-election. Both of LePage's opponents in the governor's race, Democrat Mike Michaud and independent Eliot Cutler, also said they support testing for drug felons.
International
Austrian Marijuana Legalization Initiative Campaign Gets Underway. The group Legalize! Austria today filed a parliamentary citizen's initiative to remove marijuana from the scope of the Austrian Narcotics Act, which would effectively legalize it. The measure calls for marijuana to be sold, taxed, and regulated through licensed distributors, with an exception for personal cultivation.
(This article was published by StoptheDrugWar.org's lobbying arm, the Drug Reform Coordination Network, which also shares the cost of maintaining this web site. DRCNet Foundation takes no positions on candidates for public office, in compliance with section 501(c)(3) of the Internal Revenue Code, and does not pay for reporting that could be interpreted or misinterpreted as doing so.)