Tennessee Gov. Bill Haslam (R) today signed into law a bill that will allow the state to file criminal charges against pregnant women who use drugs on the grounds that they are potentially harming their fetuses, even though there is little scientific evidence that being exposed to illicit drugs in the womb causes long-term harm to children.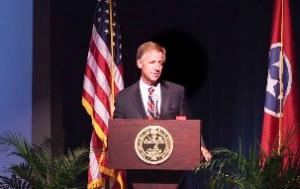 In his signing statement, Haslam said he signed the bill after "extensive conversations with experts including substance abuse, mental health, health and law enforcement officials" and will "be monitoring the impact of the law through regular updates with the court system and health professionals."
The bill foresees prison sentences of up to 15 years for women who used drugs and whose babies were stillborn or born addicted or otherwise harmed.
Haslam's move comes just one day after acting head of the Office of National Drug Control Policy (ONDCP -- the drug czar's office) slammed the notion in a visit to the state.
"Under the Obama administration, we've really tried to reframe drug policy not as a crime but as a public health-related issue, and that our response on the national level is that we not criminalize addiction," said acting drug czar Michael Botticelli. "We want to make sure our response and our national strategy is based on the fact that addiction is a disease."
Haslam's approval of the measure, Senate Bill 1391, also comes in the face of a massive outcry from reproductive rights and criminal justice groups across the country, who say that criminalizing pregnant women is the wrong policy approach. Those advocates argue that criminalizing pregnant women who are using drugs works against getting them to come forward to seek medical treatment and that the law will disproportionately impact poor, non-white women.
"Today, the Tennessee governor has made it a crime to carry a pregnancy to term if you struggle with addiction or substance abuse," said Alexa Kolbi-Molinas, a staff attorney with the ACLU Reproductive Freedom Project. "This deeply misguided law will force those women who need health care the most into the shadows. Pregnant women with addictions need better access to health care, not jail time."
It isn't just activists who are upset. According to National Advocates for Pregnant Women, most medical expert groups oppose such laws. And specialists in obstetric medicine and drug addiction called on Haslam to veto the measure.
"Tennessee has become the first state to ignore the warnings of medical and public health experts to pass a law criminalizing pregnancy outcomes," the pregnancy advocacy group said this afternoon.