Talk about unintended consequences! Faced with a declining US market share, Mexican marijuana farmers are switching to opium poppies. Plus, AG Holder has some words about rescheduling, the Maryland decrim bill is back from the dead, it looks like 2016 for California legalization, and more. Let's get to it: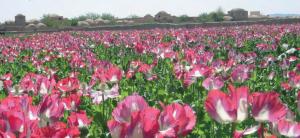 Marijuana Policy
Holder Says Obama Administration "Willing to Work" With Congress to Reschedule Marijuana. Attorney General Eric Holder said Friday that the Obama administration would be willing to work with Congress if lawmakers want to reschedule marijuana. Holder did not mention that the administration, and he personally, already have the statutory authority to reschedule marijuana, without needing further permission from Congress. Either way, recategorizing marijuana would not legalize the drug under federal law, but it could ease restrictions on research into marijuana's medical benefits and allow marijuana businesses to take the usual tax deductions, e.g. not pay taxes on money that has been paid out for things like rent or payroll. "We'd be more than glad to work with Congress if there is a desire to look at and reexamine how the drug is scheduled, as I said there is a great degree of expertise that exists in Congress," Holder said during a House Appropriations Committee hearing. "It is something that ultimately Congress would have to change, and I think that our administration would be glad to work with Congress if such a proposal were made."
Okay, There Will Be No California Legalization Initiative This Year. Proponents of the last two California marijuana legalization initiatives still alive this year have thrown in the towel. Dave Hodges, proponent of the Marijuana Control, Legalization & Revenue Act (MCLR) announced today that it will not meet an April 18 signature-gathering deadline, while Berton Duzy, proponent for the revived California Cannabis Hemp Initiative (CCHI), which has received a signature-gathering extension, conceded that "We're not going to make 2014." In California, it's now all eyes on 2016.
Maryland Decriminalization Returns from the Dead, Passes House. Defying a powerful committee chairman who tried to derail a decriminalization bill by turning it into a study bill, House delegates Saturday passed House Bill 879 by a vote of 78-55. Final procedural votes on both measures are expected today, the last day of the session.
Delaware Governor "Willing to Discuss" Softer Marijuana Penalties. Gov. Jack Markell (D) is "willing to discuss" changes that would reduce penalties for the possession of small amounts of marijuana, according to a spokesman for the governor. "The governor has supported making marijuana available for medical purposes and DHSS expects to license a dispensary that can open in Delaware this year," Markell spokesman Jonathon Dworkin said in a statement. "The governor is willing to discuss changing the penalty for possession of small amounts of marijuana from jail sentences to just fines, but he would not support full legalization at this time without further studies and evidence of its consequences."
Thousands Rally at Annual Ann Arbor Hash Bash. An estimated 8,000 people gathered at the University of Michigan in Ann Arbor for the 42nd annual Hash Bash over the weekend. Police warned that people who toked up could get arrested, but that didn't seem to stop anybody. As The Detroit Free Press noted, "the event's usual plume of smoke hung over the crowd."
University of Colorado Will Close the Campus Again for 4/20. University of Colorado officials will close the Boulder campus on April 20 for the third straight year to prevent thousands of celebrants from marking the stoner holiday on campus. From noon to 6:00pm on April 20, CU faculty, students and staff will be required to show identification to enter campus. Officials brushed aside student complaints.
Medical Marijuana
Washington State Appeals Court Upholds Local Ban on Collective Gardens. The Washington Court of Appeals last week upheld the city of Kent's ban on medical marijuana collective gardens, ruling that the ordinance is not preempted by state law. The case is Cannabis Action Coalition et al. v. City of Kent et al.
Hemp
Nebraska Governor Signs Hemp Research Bill. Gov. Dave Heineman (R) last week signed into law Legislative Bill 100, which allows University of Nebraska campuses to grow hemp for research purposes. This is the first such bill to pass since Congress authorized search research when it accepted a hemp amendment to the omnibus agriculture bill this fiscal year.
Drug Testing
Michigan Suspicion-Based Welfare Drug Testing Bill Polls Well. Suspicion-based drug testing for welfare recipients has broad support across Michigan, a new poll shows. The poll, conducted by Marketing Resource Group, finds that 77% of respondents support legislation that would require the Department of Human Services to test welfare recipients suspected of using drugs, then send recipients with positive tests to rehab. House Bill 4118 has already passed the House and Senate, but was amended in the latter chamber, so it still needs another House floor vote.
Law Enforcement
California Bill Would Create Zero-Tolerance DUID Law. A bill that would make the presence of any detectable amount of any controlled substance, including prescription drugs, evidence of drugged driving has been filed in the Assembly. Assembly Bill 2500, sponsored by Assemblyman Jim Frazier (D-Solano) is before the Assembly Public Safety Committee.
Colorado Bill Would Make Mere Drug Possession Evidence of Child Endangerment. Under a bill introduced by state Sens. Andy Kerr (D-Lakewood) and Linda Newell (D-Littleton), the mere possession or use of illicit substances would be grounds for a claim of child endangerment. Senate Bill 178 was filed April Fools' Day, but it's no joke.
International
With Declining US Market Share, Mexican Farmers Switch from Marijuana to Opium. With the wholesale price of marijuana falling -- driven in part by decriminalization or legalization in sections of the United States -- Mexican drug farmers are turning away from cannabis and filling their fields with opium poppies, according to this lengthy article from The Washington Post. That means more, cheaper heroin for the US market. Pot farming "isn't worth it anymore," one farmer complained. "I wish the Americans would stop with this legalization." David Shirk, a Mexico researcher at the University of California at San Diego, told The Post, "When you have a product losing value, you diversify, and that's true of any farmer… The wave of opium poppies we're seeing is at least partially driven by changes we're making in marijuana drug policy."
Filipino Drug Warrior Mayor Issues Shoot-to-Kill Order for Cocaine Sellers. Davao City Mayor Rodrigo Duterte, a man never known for letting human rights get in the way of his war on drugs, has issued a shoot-to-kill order against anyone selling cocaine from eight bricks of the drug still missing after police seized 64 of the one-pound packages. "Once they go out and use or sell them, they will become drug lords. I have a shoot-to-kill order, especially if they resist arrest -- if they do that, we can enforce the shoot-to-kill," Duterte said.
Jamaican Marijuana Growers Association Is Launched. A group of influential Jamaicans gathered Saturday to formally launch an association of supposed future marijuana cultivators as momentum builds toward loosening laws prohibiting pot on the Caribbean island. Some 300 people assembled at a conference center in downtown Kingston to officially launch the Ganja Future Growers and Producers Association. Among other things, the group will lobby for creation of a regulated cannabis industry on the tropical island famed for its marijuana cultivation. The government has been making some promising noises about medical marijuana and decriminalization, but there is nothing definite so far.