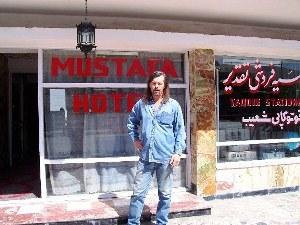 We are proud to report that Phillip Smith, the longtime writer and editor of this newsletter, is the 2013 recipient of the Edward M. Brecher Award for Achievement in the Field of Media. The Brecher Award is one of a set given by the
Drug Policy Alliance
, at the biennial
International Drug Policy Reform Conference
, meeting next Wednesday 10/23 through Saturday 10/26 in Denver, Colorado.
From the DPA press release, distributed late this afternoon:
The Edward M. Brecher Award for Achievement in the Field of Media has been awarded to Phil Smith. This award honors those who have produced the highest quality of journalistic coverage of drug policy and other drug issues.
Phil Smith has written more on the war on drugs than anyone else in the United States, if not the world. He has served as writer and editor of the Drug War Chronicle newsletter since May 2000, where he has turned out 6,500 hundred separate articles and 1,500 feature stories. He was the first to break the news about California's then-Governor Schwarzenegger signing a marijuana decriminalization bill as well as many other notable drug policy headlines. He has reported from the opium fields of Afghanistan and the coca fields of Bolivia and Peru, as well as the US-Mexico border and the mean streets of North American cities from Vancouver to Washington, DC.
Others awardees this year include the Seattle Police Department, organizers of the Colorado and Washington marijuana legalization initiatives, the Portugal government's drug agency, the Global Commission on Drug Policy, and more.
The full release, with complete list of honorees, is online here.