Lawmakers in Kingston Tuesday debated marijuana decriminalization, even though there is no bill pending or vote scheduled. The move came as the evergreen issue of marijuana law reform picks up momentum in the home of reggae and Rastafari, with other Caribbean and nearby island nations and US states contemplating similar pot law changes.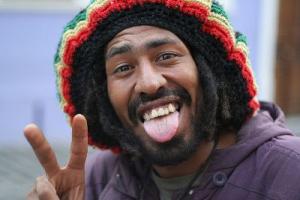 Marijuana decriminalization or legalization has been a topic of discussion in Jamaica for decades, but no governments have moved beyond the talking stage. As the winds of change blow across the hemisphere, however, pressure for reform is mounting.
In Tuesday's debate, lawmakers complained that young men are getting criminal records for possession of ganja at the rate of 300 a week. Those criminal records lessen those people's job prospects, the lawmakers said.
"There is no doubt that ganja can have harmful effects on an individual. But this does not warrant criminalization of thousands of Jamaicans for their personal choice and use, some for reasons deep-rooted in culture," opposition Jamaica Labor Party lawmaker Daryl Vaz, a former information minister, said in remarks reported by LinkUpRadio.com.
"For personal use, the punishment of a criminal record is too much," agreed People's National Party (PNP) Minister of State for Tourism & Entertainment Damion Crawford, the son of a Rastafarian. Too many Jamaicans suffer the consequences of those criminal records for ganja, he added.
The debate came after a PNP lawmaker, Raymond Pryce, filed a motion to open discussion. Pryce argued that the plant has long been a part of Jamaica's history despite being prohibited in 1913. Pryce said that there was great commercial and medicinal potential in the plant. The plant has long been used medicinally as well as recreationally by rural Jamaicans, and is considered a sacred sacrament by Rastafarians.
More than a decade ago, a government-appointed commission recommending decriminalizing the possession and cultivation of small amounts of pot, saying the herb was "culturally entrenched" in the county, but that recommendation went nowhere in the face of fears of angering the US. Now, with two US states having already legalized marijuana and more getting in line to do so, the fear of dire reaction from Washington has largely dissipated.