Afghanistan could collapse into a "full-fledged narco-state" as the looming withdrawal of US and NATO combat forces creates a gaping hole in the center of the country's economy, Yuri Fedotov, the head of the UN Office on Drugs and Crime (UNODC) warned Wednesday.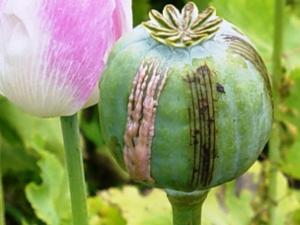 In an interview with
Reuters
, Fedotov noted that the Western forces generate about a third of all jobs and investment in Afghanistan. They are due to leave the country by the end of next year, and even the presence of a residual force of up to 10,000 fighters is increasingly in doubt as the US and Afghan haggle over a status of forces agreement that would allow them to stay.
The other major economic activity in the country is opium production, processing, and distribution, including the manufacture of heroin from raw opium, which accounts for roughly another third of the national economy. Since the US invaded Afghanistan in October 2001, it has consistently been the world's leading source of illicit opium production, accounting for nearly 90% of all poppies produced worldwide.
Multi-hundred million dollar annual cash flows associated with the opium economy have benefited the Taliban insurgency, which taxes farmers in areas it controls as well as engaging in or protecting drug trafficking. They have also benefited corrupt Afghan government officials and associated warlords.
Fedotov, whose native Russia has been flooded with Afghan heroin, said Wednesday that an upcoming UNODC survey due later this month will show increases in both opium cultivation and production.
"The situation is worsening, that is clear and very disappointing," he said. "It is a very serious setback, but we need to take that as a warning shot," he added, calling for increased international assistance.
"That is also fertile ground for corruption and other forms of transnational organized crime. It is a multi-faceted challenge and we need to take that as a serious problem," Fedotov warned. "Otherwise we have a serious risk that without international support, without more meaningful assistance, this country may continue to evolve into a full-fledged narco-state," he said. "We have not been able to develop an alternative economy in Afghanistan," Fedotov said. "With all our efforts, it was very hard to move from illicit to licit."
Oh, and those Afghan farmers? When they're not producing opium, they're producing cannabis. Afghanistan is also one of the world's preeminent producers of it, according to UNODC, and production was up again last year, the group reported last month.