An especially egregious drug war excess in New Mexico makes the news, the mayor of Toronto 'fesses up to smoking crack, Morocco gets ready to talk marijuana legalization, and more. Let's get to it: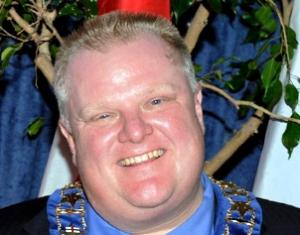 Drug Testing
Drug Testing Provision Stripped from New Hampshire Hep C Bill. A bill written in the wake of an outbreak of Hep C infections linked to an Exeter Hospital employee will not include random drug testing for health care employees. The bill, House Bill 597, originally contained such language, but it was stripped out in the House Health, Human Services, and Elderly Affairs Committee. Federal courts have held that drug tests constitute a search under the meaning of the Fourth Amendment and thus require probable cause, except in limited circumstances.
Search and Seizure
New Mexico Man Sues over Forced Anal Drug Search. A Deming, New Mexico, man detained for running a stop sign allegedly had his buttocks clenched when ordered out of his vehicle by police, leading them to suspect he had drugs secreted in his rectum. Police obtained a search warrant from a compliant judge, then had medical personnel forcibly subject the man to repeated anal probes, enemas, and a colonoscopy in a futile attempt to find any drugs. In addition to the unreasonableness of the invasive searches, they also took place outside of the jurisdiction where the warrant was issued and after the timeline specified in the warrant. The victim, David Eckert, ought to be picking up a nice check one of these years.
International
Toronto Mayor Admits He Smoked Crack, But Says He's Not an Addict. Months after rumors of a video showing Toronto Mayor Rob Ford smoking crack cocaine emerged, but only days after Toronto police said they had a copy of that video, Ford told reporters Tuesday that he had indeed smoked crack, but that he did so "in a drunken stupor" and that he wasn't an addict. Time will tell if his political career survives the revelation.
Marijuana Legalization Debate Looms in Morocco. Moroccan activists and politicians are close to firming up a date later this month for the parliament to hear a seminar on the economic implications of legalization hosted by the powerful Party of Authenticity and Modernity. Morocco is one of the world's largest marijuana producers, with output estimated at 40,000 tons a year, most of which is transformed into hashish and destined for European markets.
Czech Police in Mass Raid on Grow Shops. Although the Czech Republic has a reputation as a pot-friendly destination, recreational marijuana use remains illegal. Czech police served up a reminder of that reality Tuesday, raiding dozens of stores that sell growers' supplies. Police seized fertilizer, grow lights, and marijuana growing guidebooks and said they suspected store owners of violating drug laws by providing people with all the equipment they needed to grow their own. There was no mention made of any arrests.
New Zealand Court Says Employer Can't Force Workers to Undergo Drug Tests. New Zealand's Employment Court has ruled that companies cannot impose random drug tests on workers, nor discipline them for refusing such a test. Mighty River Power Company had a collective bargaining agreement with workers, which allowed testing only under specified circumstances, but initiated random drug tests later. If the company wants random drug test, the court said, it would need to negotiate a new provision in the collective bargaining agreement.