Colorado legislators approved not one, but two measures aimed at reducing the harms of drug use this week. Both a syringe exchange bill and a naloxone provision bill passed the legislature and now head for the governor's desk.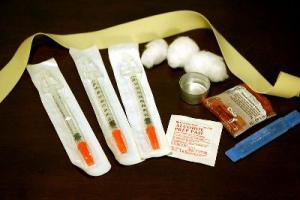 The first measure,
Senate Bill 208
, expands on the Clean Syringe Exchange bill passed in 2010, which exempted staff and volunteers -- but not exchange participants -- from drug paraphernalia possession charges. That left actual injection drug users making use of the exchange at risk for being arrested for carrying clean or used syringes.
This year's bill adds participants to the categories of the protected. Now, participants in the state's six syringe exchange programs -- in Denver, Boulder, Grand Junction, and Fort Collins -- will be able to carry clean syringes and return used ones for proper disposal without fear of arrest.
The second bill, Senate Bill 14, authorizes anyone who might witness an opiate overdose to be prescribed and administer the opioid overdose reversal drug Naloxone. Naloxone has been shown repeatedly to safe lives by reducing the number of opioid drug overdose deaths.
Both bills were supported by the Denver-based Harm Reduction Action Center, the state Department of Public Health and Environment, and the Drug Policy Alliance. The syringe exchange bill was also supported by the, Denver Colorado AIDS Project, Boulder County Public Health, and the Colorado Criminal Justice Reform Coalition, while the Naloxone bill was also supported by the Colorado Medical Society, the Colorado Psychiatric Society, the Colorado Provider's Association, the Colorado Behavioral Health Council, and Mental Health America of Colorado.