A Malaysian government minister said Sunday the Southeast Asian nation is moving toward decriminalizing drug possession, but her remarks also suggested that drug users would be exchanging jail cells for treatment beds. Minister in the Prime Minister's Department Nancy Shukri said the government's policy was moving from prosecuting drug users to treating them.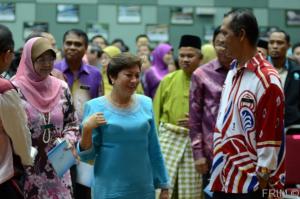 Her remarks came at the end of a High Level Meeting on Drug Policy and Public Health sponsored by the
Global Commission on Drug Policy
. The meeting was held in conjunction with the
2013 International Aids Conference
held over the weekend in Kuala Lumpur, the Malaysian capital.
Shukri also said that the Association of Southeast Asian Nations' (ASEAN) goal of a drug-free region by 2015 was not realistic, but that smarter approaches by authorities could reduce drug dependence.
"There is no such thing as drug-free but we can control it by changing or shifting our policy," Shukri said. "Instead of looking at drug dependents as criminals, we should actually look at them as patients. Instead of bringing them to jail, we bring them to the clinic," she told a press gaggle after the AIDS conference ended.
Shukri said that Malaysia had been taking steps toward a more effective and humane drug policy, but that those initiatives were not widely known. She cited ongoing needle exchange programs for injection drug users. The sharing of needles is a known vector for the transmission of the AIDS virus, and the program had resulted in a reduction in new HIV/AIDS infections, she said.
"Others include the harm reduction program and upgrading of the rehabilitation centers into Cure & Care Clinics," Shukri said. "We are already there (decriminalizing drugs) but we are not making it loud enough for the people to understand that we have this policy. Our policy has not been established in a formal way."
That could be coming, though. Shukri said the government is currently reviewing the country's drug laws, including the Drug Dependents (Treatment and Rehabilitation) Act of 1983.
"The Law Reform Committee is now in the process of discussing to amend that particular provision [Section 4(1)(b) of the Act which allows the detention of a suspected drug dependent for up to 14 days for a test to be conducted]," she said.