In the wake of the legalization victories in Colorado and Washington last November, and medical marijuana in Massachusetts, activists are talking about where the next marijuana reform campaigns should be waged and what they should attempt to do. One document that has gotten some discussion is from the Marijuana Policy Project (MPP), listing seven states where it would be working to legalize marijuana next. The list includes possible tax and regulate initiatives in Alaska, California, Maine, Massachusetts, Nevada and Oregon.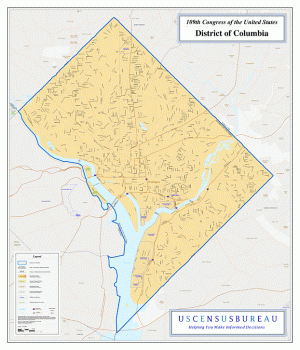 Absent from the list is one jurisdiction that would also appear ripe for a legalization initiative: Washington, DC. The nation's capital has several things going for it.
DC has the initiative process, and activists used it to great effect in passing medical marijuana with 69% of the vote in 1998 (even if, thanks to Congressional action and the glacial pace of the DC government it has taken 15 years to implement it). The District is also overwhelmingly liberal; Obama won with 91% of the vote in November.
Unlike large states like California, the District is small in size and population and would not require a huge expenditure of resources to gather enough signatures to make the ballot. Similarly, it is a relatively small media market, meaning TV advertising would be in reach of all but the most ill-funded campaign.
Last, but not least, it is the nation's capital. A successful initiative in Washington, DC, would reverberate not only around the country, but around the world, particularly an initiative that enacted legalization..
MPP may not have included the District in its "to do" list, but that doesn't mean the organization isn't watching, said the organization's director of governmental relations, Steve Fox.
"[DC] is being discussed," said Fox. "When you look at the places where an initiative would be possible, the District stands out. One reason we didn't mention it is that it's a jurisdiction where we're not necessarily looking at tax and regulate, but there are options to do less, such as a decriminalization initiative."
The problem of congressional interference is cause for concern, though, Fox said.
"DC certainly is ripe for some kind of reform, but we also have to be cognizant of the fact that it is unique in that it has congressional oversight," Fox said. "With the medical marijuana system finally getting off the ground, we don't necessarily want to ruffle any feathers by attempting to do anything too bold. When the medical marijuana initiative passed in 1998 and Congress wanted to mess with it, they ended up having a provision something along the lines of DC not being able to spend any funds to lower or reduce penalties related to any schedule I or II substances. If Congress thought DC was going too far too fast, it could block DC from spending any money for reforms of Schedule I substances."
Doing DC would be tempting, said Fox, but again worried about moving too fast for Congress.
"There would certainly be value in passing something in the District," he mused. "You would be making a statement that a strongly Democratic-leaning jurisdiction thinks marijuana should be regulated like alcohol, but that might not be big news to a lot of people. The real impact and real value would be to actually have a regulated market in operation, and members of Congress could see that the sky isn't falling. We've waited 15 years to show Congress you can have medical marijuana dispensaries up and running and serving patients and the public good, and we want to make sure Congress has a chance to absorb that reality."
"As a longtime DC resident, I've always thought of the District as low-hanging fruit," said Allen St. Pierre, executive director of
NORML
, who expressed interest in an initiative. "The media market is limited, and there is an overwhelmingly liberal population. But we don't even have a NORML chapter here, and I see little impetus in the reform community."
But things are happening in the District, according to long-time activist Adam Eidinger, co-owner of the Capitol Hemp Emporium until it was forced to close under law enforcement pressure last year. Eidinger told the Chronicle that both legalization and medical marijuana activists were meeting to plot potential courses of action, including either a legalization initiative or an initiative to expand medical marijuana rights.
"We're thinking 2014," said Eidinger, "but while I think this is a no-brainer, it has to be poll tested. We're not going to go for it if it polls less than 65%. "We will poll medical as well as legalization and see what the difference is. I know some of our friends wouldn't support legalization, but would support a patients' rights initiative that would give them the right to grow limited amounts, more rights to use outside the home, and more flexibility on dispensaries. This isn't California; DC is super strict on medical marijuana, and the patients here are going to be AIDS patients and cancer sufferers."
Test polling will happen soon, he said.
Eidinger, who also runs a media consulting firm, also saw the potential for a media coup. "This is a great place to do it for the public relations value," he said.
MPP's Fox said the group was looking for a few good people.
"As MPP did in Colorado and with medical marijuana in Arkansas, what we look for are committed and competent people on the ground who are able to do this kind of work," Fox said. "We're looking to support good people. I coordinate ballot initiatives, and I'm in DC, and so are other activists. I would be happy to work with local activists to craft something."
"The symbolism alone would probably be worth it," said St. Pierre. "It probably wouldn't cost more than $15,000 or $20,000 to get it done. This is a low cost project with a huge potential upside."
If recent comments from DC elected officials are any indication, further marijuana law reform is only going to come through the initiative process. While one city council candidate,
Paul Zuckerberg, is running on a platform that includes decriminalization
, the mayor and other top officials have made clear they are not interested in going further.
"I'm not prepared at this stage to support the decriminalization of any drugs at this point," Mayor Vincent Gray said
earlier this month
. "Look at the most abused substance in our society, and it's probably alcohol. People do abuse, irrespective of whether it's legal or not."
Police Chief Cathy Lanier also expressed unease, although her comments did suggest she drew a line between marijuana and other drugs.
"I know the legalization of marijuana is in large debate around the country, whether it be medical marijuana or just straight-out legalization of marijuana. That's one issue," Lanier said. "But I think when you talk about some of these other drugs that are extremely dangerous -- PCP, for example -- to say that we should decriminalize that and just allow people to have that without any penalty in the community would just be devastating."
With the DC council unlikely to advance reform, that leaves the field open to potential initiative campaigns. The District is most likely ripe for the picking, if anyone decides to go that route.