A bill that would expand access to the overdose-blocking drug naloxone is moving in the New Jersey legislature. The bill, Senate Bill 2082, the Opioid Antidote and Overdose Prevention Act passed the Senate Health, Human Services and Senior Citizens Committee Monday on a unanimous vote and now heads for a Senate floor vote.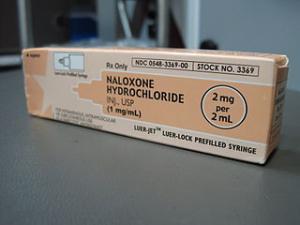 A companion measure, Assembly Bill 95, awaits a hearing before the Assembly Health and Senior Services Committee.
Naloxone is an opioid antagonist, meaning it blocks and reverses the effects of opioid drugs, such as heroin, morphine, and Oxycontin. A
Centers for Disease Control and Prevention report
from last February found that some 50 naloxone programs nationwide had reversed more than 10,000 overdoses.
Naloxone is available only by prescription in New Jersey. The bill would expand access to the drug by providing protection from civil and criminal liability to medical professionals who prescribe the drug and laypersons who administer it.
Advocates applauded the bill's clearing the first hurdle and urged the legislature to finish the job.
"We must have a comprehensive strategy to reduce the huge number of tragic and preventable overdose deaths in New Jersey," said Roseanne Scotti, New Jersey state director for the
Drug Policy Alliance
. "Expanded access to Naloxone is a key component in that strategy. This bill will save lives and should now be acted on by the legislature with all possible speed. Lives hang in the balance."
"Drug overdose continues to be the leading cause of accidental death in New Jersey," said Sen. Joseph Vitale (D-Woodbridge). "Each year it surpasses the number of deaths caused by automobile accidents and guns. Expanding access to naloxone will allow this medication to reach its full public health potential and will be an important part of New Jersey's comprehensive efforts to address drug abuse."
Patty DiRenzo of Blackwood lost her son, Salvatore, to an overdose when he was 26 years old.
"Sal was a beautiful soul who unfortunately struggled with addiction. If the people he was using with on the night he died had access to naloxone, he might still be alive today. Instead, my son was left alone to die. It's extremely important to have policies like this one in place, so that other families are spared the grief that mine has endured."
Eight states and the District of Columbia have already passed legislation easing access to Naloxone in a bid to reduce drug overdose deaths.