A federal magistrate in Oakland Monday ruled that landlords for the Harborside Health Center cannot stop it from selling medical marijuana in their properties in the cities of Oakland and San Jose. Federal Magistrate Maria-Elena James issued an order blocking the landlords from forcing Harborside to close its doors.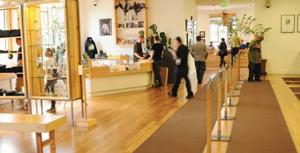 Harborside is the world's largest medical marijuana dispensary, serving 108,000 registered patients at its two locations. It was targeted by federal prosecutors as part of their ongoing crackdown on medical marijuana providers in states where it is legal.
Federal prosecutors targeted Harborside by threatening its landlords with seizure of their properties. In a bid to fend off asset forfeiture actions, the two landlords went to federal court to try to stop Harborside from engaging in "any unlawful activity," which, under federal law, includes selling medical marijuana.
But Magistrate James ruled that the landlords had no right to pursue such an action under federal law and she challenged the landlords' claims that their property values would be harmed by the sale of medical marijuana. Harborside has operated at the Oakland property since 2006 and in San Jose since 2009.
"Any damage or threat of harm to the (properties) resulting from Harborside's operations would have occurred when Harborside began its operations at the Oakland and San Jose locations," she wrote. "There is nothing in the record indicating that Harborside's continued operation compromises the existence, value or title of either the Oakland or San Jose property. Any argument about the urgency of stopping Harborside's activities rings hollow."
Harborside was joined in court by the city of Oakland, which argued that the federal government has missed the statute of limitations in the case and that closing Harborside would create a public safety risk by creating a black market for formerly available medical marijuana. The court did not rule on the city's motion to immediately enjoin the federal government from shutting down Harborside, but set a date for more hearings on that issue.
"We are grateful that Judge James carefully considered the facts and arguments in the Harborside case, and decided to grant us our day in court," said Harborside executive director Steve DeAngelo. "We have always believed that a Bay Area jury will recognize the value that Harborside brings to the community, and refuse to allow the federal government to seize the properties where we are located. We look forward to proving our case in front of a jury, and continue to believe we will prevail. In the meantime, we ask the Department of Justice to immediately freeze enforcement actions against Harborside and any other cannabis providers acting in full compliance with state law. Our nation's law enforcement officers should concentrate on real crime."
Harborside isn't out of the legal woods yet, though. The federal effort to shut it down remains alive, even though the dispensary won this skirmish. It has stated repeatedly that it will fight the battle to the end, and on that score, at least, nothing has changed.
"We are gratified that Judge James listened to and analyzed the parties' arguments so thoroughly and has now rendered an opinion that will ensure Harborside has the right to present its case to a jury," said Harborside attorney Henry Wysocki. "Despite the government's efforts to shortcut the case, Harborside will now be able to fully defend itself at trial. That is all we had asked, and the court has now agreed. The stage is now set for a jury trial on the underlying issues of the litigation, which will probably take place in about one year."