A federal judge has ordered the state of Florida to pay more than $190,000 in attorneys' fees in a case challenging an executive order ordering suspicionless drug testing of state employees issued last year by Gov. Rick Scott (R). Those taxpayer funds have now been lost to Scott's chimeric crusade to impose drug testing on various fronts.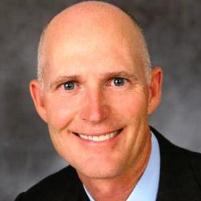 Last Friday,
US District Court Judge Ursula Ungaro ordered the state to pay
attorneys' fees to the American Federation of State, County, and Municipal Employees (AFSCME) Local 79, which filed suit to block the executive order in May 2011. The union is the plaintiff in the suit challenging Scott's ability to randomly test workers in state agencies.
A report by the Orlando Sentinel found that the state has now incurred over a million dollars in legal bills for controversial legislation pushed by the governor.
Judge Ungaro had ruled that Scott's executive order was unconstitutional back in April, saying the governor did not show a "compelling need" to impose drug testing. Scott has appealed to the 11th US Circuit Court of Appeals.
Scott's drug testing plan has never been implemented except among some employees of the Department of Corrections. He put it on hold because of the legal challenge.
Another of Scott's pet projects, the mandatory suspicionless drug testing of welfare applicants and recipients has also been so far stymied in the federal courts. In that case, a federal judge issued a temporary injunction blocking implementation amid strong hints she would eventually rule that the practice was unconstitutional.
Meanwhile, despite the legal roadblocks -- and financial costs to taxpayers of fighting them -- Scott and the legislature last year passed another bill, House Bill 1205, which would allow, but not require, state agencies to conduct random suspicionless drug testing of state workers. That law, too, is on hold as it faces challenges in the federal courts.