Attorney General Eric Holder told the governors of Colorado and Washington Thursday that the Justice Department would not -- at least for now -- block their states from implementing regimes to tax, regulate, and sell marijuana. The message was sent during a joint phone call early Thursday afternoon.
The Justice Department will take a "trust but verify" approach, a department official said. The department said it reserved the right to challenge the state legalization laws with a preemption lawsuit at a later date if necessary.
The go-ahead from Holder to the states was accompanied by a memorandum from Deputy US Attorney General James Cole to federal prosecutors laying out Justice Department concerns and priorities. If marijuana is going to be sold, the memo said, it must be tightly regulated.
"The Department's guidance in this memorandum rests on its expectation that states and local governments that have enacted laws authorizing marijuana-related conduct will implement strong and effective regulatory and enforcement systems that will address the threat those state laws could pose to public safety, public health and other law enforcement interests," the memo said. "A system adequate to that task must not only contain robust controls and procedures on paper; it must also be effective in practice."
The memo listed a number of activities that could draw federal prosecutorial attention or result in a Justice Department reassessment, including sales to minors, profits going to criminal actors, diversion to pot prohibition states, marijuana sales as a cover for other drug sales, violence and the use of firearms, drugged driving and other "adverse public health consequences," and growing marijuana on public lands.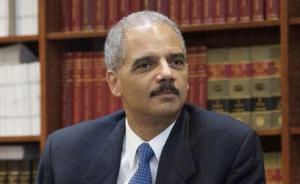 That leaves some wiggle room for federal prosecutors, some of whom have shown a willingness to be quite aggressive in going after medical marijuana providers. But it also gives them a clear signal that legalization will, in general, be tolerated in states where voters have approved it.
In a first response from marijuana reform activists, Tom Angell of Marijuana Majority called the Justice Department's stance "a step in the right direction", but also blasted the administration for its aggressive enforcement activities against medical marijuana providers and warned that interpreting the new directive will be up to US attorneys.
"It's nice to hear that the Obama administration doesn't at this point intend to file a lawsuit to overturn the will of the voters in states that have opted to modernize their marijuana policies, but it remains to be seen how individual US attorneys will interpret the new guidance and whether they will continue their efforts to close down marijuana businesses that are operating in accordance with state law," Angell said.
"It's significant that US attorneys will no longer be able to use the size or profitability of a legal marijuana business to determine whether or not it should be a target for prosecution, but the guidelines seem to leave some leeway for the feds to continue making it hard for state-legal marijuana providers to do business," he continued.
Angell chided the administration for using cheap rhetoric about not busting pot smokers to obscure deeper issues of federal harassment of marijuana businesses.
"The administration's statement that it doesn't think busting individual users should be a priority remains meaningless, as it has never been a federal focus to go after people just for using small amounts of marijuana," he said. "The real question is whether the president will call off his federal agencies that have been on the attack and finally let legal marijuana businesses operate without harassment, or if he wants the DEA and prosecutors to keep intervening as they have throughout his presidency and thus continue forcing users to buy marijuana on the illegal market where much of the profits go to violent drug cartels and gangs."
The Marijuana Policy Project also reacted Thursday afternoon, saying it applauded the move.
"Today's announcement is a major and historic step toward ending marijuana prohibition. The Department of Justice's decision to allow implementation of the laws in Colorado and Washington is a clear signal that states are free to determine their own policies with respect to marijuana," said Dan Riffle, the group's director of federal policy.
"We applaud the Department of Justice and other federal agencies for its thoughtful approach and sensible decision," he added. "It is time for the federal government to start working with state officials to develop enforcement policies that respect state voters, as well as federal interests. The next step is for Congress to act. We need to fix our nation's broken marijuana laws and not just continue to work around them."