Wednesday's United Nations General Assembly session saw not one, not two, but three Latin American heads of state call on it to promote debate on alternatives to the war on drugs. The presidents of Colombia, Guatemala, and Mexico all used their 15-minute addresses at the Assembly to call for exploring new paths.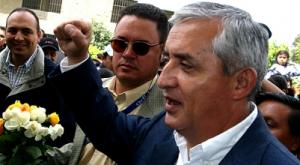 Outgoing Mexican President Felipe Calderon, who has presided over a drug war that has left more than 55,000 people dead during his six-year term, told the General Assembly the UN should lead "a profound international debate" about ways to reduce drug trafficking and its consequences. The UN itself should do more to intervene if wealthy Western countries that consume "tons and tons of drugs" cannot bring their demand down.
The US and other drug consuming countries need to "evaluate with all sincerity, and honesty, if they have the will to reduce the consumption of drugs in a substantive manner," Calderon said. "If this consumption cannot be reduced, it is urgent that decisive actions be taken."
Colombian President Juan Manuel Santos also called for a "frank, and without a doubt, global" discussion on alternatives to the status quo. "It is our duty to determine -- on objective scientific bases -- if we are doing the best we can or if there are better options to combat the scourge," he said.

According to the UN News Network, Calderon hinted without quite suggesting an examination of legalization alternatives, stating, "The enormous profits from the black market due to prohibition have exacerbated the ambition of criminals, increasing the massive flow of resources to their organizations and allowing them to create powerful networks," adding "thousands and thousands of young people in Latin America have died because of drug trafficking-related violence, and, in particular, the nations that are suffering the most are the ones located between the drug-producing zone in the Andes and the main drug market: the United States."

There was speculation that Guatemalan President Otto Perez Molina would actually call for the legalization of the drug trade, as he has in the past, but he didn't go that far in New York.

"We must seek new avenues with responsibility and perseverance, with the cooperation of all: producing, consuming and transit countries," he said, adding that his government "would like to establish an international group of countries that are well disposed to reforming global policies on drugs" and would consider "new creative and innovative alternatives."

A concerted call for discussing alternatives to the drug war, yes. A clarion call for drug legalization, not yet.