Mexico must take decisive action to rein in systematic and widespread use of torture, ill-treatment, and other human rights abuses, which have increased dramatically since outgoing President Felipe Calderon unleashed the military to fight the country's so-called cartels nearly six years ago, Amnesty International said in a report released last Thursday.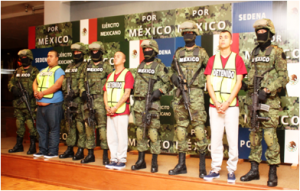 The report,
Known Abusers, But Victims Ignored: Torture and Ill-Treatment in Mexico
, documents the increase of cases of torture and ill-treatment by the police and military forces, the lack of effective investigations and almost total lack of prosecutions, and the juridical weaknesses and lack of political will that allow such abuses to go unpunished and even allow testimony obtained through torture to be used to convict its victims.
An estimated 60,000 people have been killed and another 160,000 displaced in prohibition-related violence in Mexico since Calderon made waging the drug war the centerpiece of his then new administration in December 2006. The cartels are responsible for much of the mayhem, but as the violence intensified, human rights complaints filed with federal authorities have more than quadrupled, from 392 in 2007 to 1669 in 2011. Nearly 5,000 federal complaints have been filed overall, and those are just the cases when someone bothered to go through the formality of a process that too often produces no results.
And, the Amnesty report shows, it is mainly just a formality. According to the report, federal prosecutors prosecuted no torture cases in 2007 or 2008, one in 2009, and filed four more in 2010. Similarly, the number of state level torture prosecutions can be counted in the single digits each year since 2007.
"The Calderón administration has effectively turned a blind eye to the 'torture epidemic' we've been witnessing in Mexico," said Rupert Knox, an Amnesty International Mexico researcher. "The protection of human rights has been ignored or sidelined in favor of the government's strategy of militarized combat of organized crime and drug cartels. Across Mexico criminal suspects often face detention and trial on the basis of evidence obtained under torture and ill-treatment while prosecutors and courts fail to question seriously information or evidence obtained in this manner."
Miriam Isaura López Vargas is a case in point. She was arbitrarily detained in Ensenada, Baja California, on February 2, 2011. During interrogation in a military barracks in Tijuana by a civilian federal prosecutor, members of the army reportedly sexually assaulted her, subjected her to near asphyxiation and stress positions, and threatened her in order to coerce her into signing a confession falsely implicating other detainees in drug trafficking offenses.
"I heard a man scream many times, they kept on asking him, 'Where are the guns, where are the drugs?' A bit later I heard 'Take him away and bring me the next one.' I heard them open a door," Lopez Vargas recounted. "They put a wet cloth over my face, when I tried to breathe. I felt the wet cloth, it became difficult to breathe, I then felt a stream of water up my nose, I tried to get up but couldn't because they had me held down by my shoulders and legs… someone was pressing down on my stomach, they did this repeatedly as they kept on asking the same questions."
A week later, she was transferred to Mexico City and held without being brought before a judge until April 26, 2011, when she was charged with drug offenses. The following month, the case against her collapsed, and she was released by a federal judge. She filed a complaint alleging she was tortured; it has yet to be acted on.
The involvement of the Mexican military in the Lopez Vargas is not unusual. Across Mexico, military personnel performing policing functions have held thousands of suspects in military barracks before presenting them to prosecutors. In this context, there have been numerous reports of torture and ill-treatment while in military custody.
"Federal authorities have shown an absolute lack of leadership to combat torture and ill-treatment seriously at the state level or federal level," said Knox. "The only way to tackle torture and ill-treatment is by ensuring that all cases are properly investigated and those responsible, brought to justice. In a letter sent to Amnesty International, Mexican President elect Enrique Peña Nieto committed to implement policies and take action to end torture, we urge the authorities to abide by their promises."