Of the three marijuana legalization initiatives on the ballot this year, Oregon's Measure 80, also known as the Oregon Cannabis Tax Act, is the most radical. For a variety of reasons it also looks to be the least likely to win. In the only recent poll, done last month by SurveyUSA, Measure 80 was trailing by a margin of 37% to 41%, with a large undecided vote of 22%. While pollsters said the results meant the race was "could go either way" and campaign proponents pointed to the high number of undecideds, any initiative polling less than 50% this close to election day is in trouble.



That's too bad, because Measure 80 would repeal marijuana prohibition in Oregon outright; allow personal possession and cultivation by adults 21 and over; create an Oregon Cannabis Commission to tax, regulate, and license commercial marijuana cultivation, processing, and sales; and explicitly allow for industrial hemp production.
Unlike Washington's I-502, Measure 80 does not establish a per se drugged driving standard for marijuana; instead, it relies on the state's existing drugged driving laws. It does create criminal penalties for commercial cultivation without a license, selling Oregon marijuana outside the state, and providing it to minors.
Medical marijuana entrepreneur and long-time hemp and legalization activist Paul Stanford relied primarily on his personal wealth to finance the signature gathering campaign for the initiative, but appears to have largely emptied his pockets doing so, and the
Yes on 80
campaign has virtually no money in the bank. A political action committee formed to help Measure 80 pass,
Oregonians for Law Reform
, has also done some fundraising, but so far has raised only a few thousand dollars.
"We think we can squeak by and make some history," said Vote 80 campaign manager Roy Kaufmann. "We've done this before -- we repealed alcohol Prohibition in 1932, and when we talk about the damage Prohibition did to our country, that becomes a very useful argument. We only qualified for the ballot in July, and the electorate is pretty evenly split right now, with a lot of undecideds. We think we can reach the undecided voters."
"It's a toss-up according to the latest poll," said Stanford. "That's not a good place to be at this point in the campaign," he conceded, "but we still have a large number of undecideds, and we just need to get the word out about how our initiative will enhance public safety, provide funding for new technologies and impairment studies, and set up a series of controls to keep it from going to kids and going out of state."
Stanford said the campaign would have to rely on "earned media," or, in other words, depend on generating news stories in the state's mass media, because it doesn't have the money for expensive paid media campaigns. As of about a week ago, the campaign reported having only $1,800 in the bank.
Oregonians for Law Reform has raised about $4,000 for the campaign so far, said spokesman Sam Chapman.
"We're going to be using the money for advertising, phone banking, and things like stickers, and we're also mobilizing students to reach out to their communities," said the former University of Oregon
Students for Sensible Policy
chapter president. "The majority of voters in Oregon just aren't aware this is even on the ballot -- if we can get to them before they get all the negative slant from the media, we have a good chance to turn out a lot of votes, especially students, since they don't need much persuading."
While Oregonians for Law Reform could undertake broader criminal justice work in the future, it was created primarily as a vehicle for passing Measure 80, Chapman said.
"We started the PAC on September 15 with a two-fold purpose: to raise money for Measure 80 and to act as an independent complementary group to the measure and the campaign," he said. "When we started, we hoped we could open the door back up for large outside donors, but it looks like they've settled on Washington and Colorado. We recognize that, and are trying to do a grassroots campaign."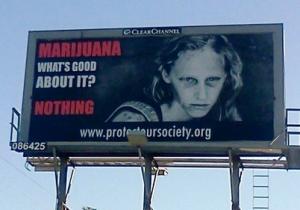 Unlike the Colorado and Washington initiatives, Measure 80 has not managed to attract the big money funders, such as Peter Lewis of Progressive Insurance, the
Drug Policy Alliance
lobbying and campaign arm, Drug Policy Action Network, or the
Marijuana Policy Project
. Those groups have poured millions of dollars into the other initiatives, but not Oregon.
MPP communications director Morgan Fox wouldn't directly address Oregon, but did explain what made the group comfortable putting money into the Colorado effort.
"Several things made the state an attractive one in which to attempt a ballot initiative," Fox said. "First, the polling looked good for the past couple of years and didn't show any signs of fluctuating by large degrees. Second, there is already a thriving medical marijuana industry and regulatory structure in place that provide an example similar to how the state will look after the passage of Amendment 64, making it much easier to convince unsure voters and make the arguments in favor more concrete. Third, there was a well-established activist community in the state that was effective, organized, and eager to move forward. This last part is very important, since most ballot initiatives are truly the product of grassroots local activists within a state who put together a plan that gets the attention of national organizations that are trying to determine how to best spend their all-too-limited resources."
"Both of the other initiatives were conceived, drafted, polled, and then put on the ballot by organizations that already had the money," said Stanford.
"The big funders saw Colorado and Washington pop up real fast," said Chapman, "and organizers made a lot of compromises in Colorado and Washington in order to poll higher and reach out to certain demographics, like the drugged driving provision in Washington -- that was tossing a bone to law enforcement and the scared mom demographic. Measure 80 is arguably for more progressive personal freedoms than either Colorado or Washington."
If Measure 80 isn't garnering much financial support, at least it isn't seeing a whole lot of organized opposition, either. While local law enforcement and conservative newspaper editorial boards have come out against it, the most significant opposition presence has been the appearance of some much-derided billboards paid for by the Florida-based Drug Free America Foundation.
As the clock ticks down, Stanford is putting a brave face on things. "We have a shot; there's still a chance we can win," he said. "I'm still optimistic that all three states can pass marijuana reform initiatives and basically legalize personal sale and possession. That would be for the drug war what the falling of the Berlin Wall was for the Cold War."
Even if Measure 80 doesn't win, it at least has to not be a wipe-out, Chapman said.
"If we get under 40%, there will be blowback," he predicted. "The big funders won't come back to Oregon for a long time, and we're likely to be playing damage control in the legislature for the next four years. This could also hurt our medical system. There are raids going on, and we could see legislators backed by law enforcement saying we couldn't get our act together and now let's repeal some stuff."
Oregon votes entirely by mail. Voters will receive their ballot beginning next week. If Measure 80 is going to win over those undecideds and eke out a victory, it has to be getting to them right now.