President Obama is taking flak from comedians and politicians alike over the federal crackdown on dispensaries. Meanwhile, raids and legal battles continue to rage across the country. Let's get to it: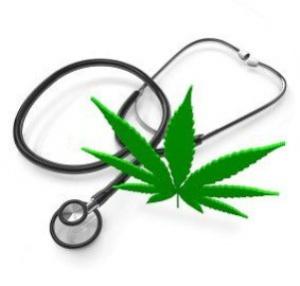 National
Last Thursday,
Rep. Barney Frank criticized President Obama for the medical marijuana crackdown
. "I think it's bad politics and bad policy," Frank said. "I'm very disappointed. I think it's a grave mistake. It's unfair and will hurt innocent people," he told The Hill. Frank said he has told Obama personally that he is "making a mistake on this," though he doubts medical marijuana will be an issue for the president in the 2012 campaign. "Not against Mitt Romney," Frank said.
On Saturday,
comedian Jimmy Kimmel confronted President Obama over the federal medical marijuana crackdown
as he hosted the annual White House Correspondents' Dinner. "I do have one real question for you, Mr. President. What's with the marijuana crackdown? I mean, seriously, what's the concern, we will deplete the nation's Funyun supply?" he quipped. "You know, pot smokers vote, too -- sometimes a week after the election, but they vote." Go to the link above for Kimmel's complete marijuana segment.
California
The California legislature will vote on several bills that will seriously affect medical cannabis patients in the state, so patient lobby group
Americans for Safe Access
is leading a rare three days of outreach in Sacramento May 19-21. It's called the
California Unity Conference
and medical cannabis lobby day. "The conference is organized by Californians to Regulate Medical Marijuana, a statewide coalition of individuals and organizations dedicated to pushing back on federal pressure on medical cannabis in California. We are planning two days of strategy and skills-building. Then on Monday, May 21, we will be going to the Capitol en masse to support good legislation and stop bad bills. Conference attendees will visit all 120 legislative offices that day. This is an important element in our state campaign this year, and your participation is crucial. Register online today."
Last Tuesday,
the Garden Grove police chief called on the feds to raid dispensaries
in his town. Chief Kevin Raney told the City Council Tuesday night his department has been in touch with federal agents and "they will be coming to Garden Grove in the future." The chief's comments came in response to complaints about the dispensaries from some council members and neighborhood associations. Councilman Bruce Broadwater called the growing number of dispensaries "a nightmare." There are an estimated 60 dispensaries in the city of 35,000.
Also last Tuesday,
a Union City dispensary was ordered shut down
after a battle with the city. CHA Wellness Center will have to close by the end of this week. It had opened in January after its owner won a permit to provide "holistic health care and relaxed products and services" and "packaged products for retail exchange." The city had told CHA it couldn't distribute medical marijuana and quickly issued a ban on operations and filed a civil complaint in Alameda County Superior Court when it found out it actually was a dispensary. The city council revoked its business license last Tuesday.
Also last Tuesday,
Trinity County approved most of the cultivation standards
drafted by the County Planning Commission and directed that the draft ordinance be prepared for final adoption as soon as possible. That will require at least two more public hearings. The proposed rules only apply to cultivation for personal use in a residential setting, establishing plant count limits or garden size based on the size of a parcel of land. Once adopted, they will replace temporary limits currently in place under an emergency moratorium with slightly more stringent requirements including one that all cultivation be conducted indoors on parcels of one acre or less. Proposed aggregate grow standards addressing large-scale marijuana operations have been sent back for additional work by the commission.
Also last Tuesday,
Nevada County ordered staff to come up with an interim emergency and other cultivation ordinance
for a hearing on May 8. The ordinance being proposed bars indoor home grows and allows them only in detached structures on properties where a patient or primary caregiver lives. Rural or residential properties under two acres could grow up to 75 square feet outdoors and no more than six plants indoors, no matter how many patients are involved. The proposed ordinance also includes other requirements.
Last Thursday,
the San Francisco Democratic Party called on President Obama to end the federal crackdown
. The party Central Committee passed a resolution demanding that President Obama, Attorney General Eric Holder, and US Attorney Melinda Haag "cease all Federal actions in San Francisco immediately, respect State and local laws, and stop the closure of City-permitted medical cannabis facilities." It was cosponsored by 21 DCCC members including its author, Gabriel Haaland, Assembly member Tom Ammiano, State Senator Leland Yee, Supervisor David Campos, Supervisor David Chiu, former State Senator Carole Migden, and former Supervisor Aaron Peskin.
On Monday,
the Berkeley Patients Group closed its doors
. The venerable and well-respected dispensary fell victim to the ongoing federal crackdown. Last fall, US Attorney Melinda Haag threatened to seize the property, and its landlords served it with an eviction notice effective Tuesday. The BPG was seen as a model dispensary, employed dozens of people, and served thousands of patients. Its closure is a major blow to the state's medical marijuana industry.
On Tuesday,
the city of Rancho Mirage appealed a court ruling
that overturned its ban on dispensaries. The city hopes to "freeze" the case with the appeal, which seeks a stay, so it can reject a new dispensary that recently filed an application. A Riverside County District Court judge in March ordered the city to process the application.
Also on Tuesday,
CANORML announced that a new zero-tolerance DUID bill had been introduced
in the state legislature. The bill,
SB 50
, was originally a political reform bill, but was gutted and refiled by a pair of veteran drug warriors, Sen. Lou Correa (D-Santa Ana) and Sen. Sam Blakeslee (R-San Luis Obispo), on April 16. The bill would make it a crime for a person to have a controlled substance in his or her blood while driving a vehicle. Since marijuana remains in the blood for as long as a week in chronic users, the bill would effectively make every MMJ patient who drives a de facto drugged driver.
Also on Tuesday,
the Lakeport city council voted to oppose a cultivation initiative
that is headed for the June 5 ballot in Lake County. Measure D would allow 12 plants to be grown on residential lots and up to 84 on larger lots. It was originally intended to undo a restrictive county cultivation ordinance, but the county board of supervisors rescinded that ordinance in the face of public pressure. The measure would only affect unincorporated sections of the county, but Lakeport is worried it could be next.
On Wednesday,
patients presented House minority leader Nancy Pelosi with a petition
bearing thousands of signatures from San Francisco voters asking her to help end the federal crackdown on dispensaries. Signatures were gathered by the Patient Advocacy Committee of the San Francisco Medical Cannabis Task Force. The petition asks that Pelosi help prevent the destruction of San Francisco's regulatory program that serves thousands of patients with safe and legal medical cannabis. It was cosponsored by the Harvey Milk LGBT Democratic Club.
Colorado
As of Monday,
two of three Boulder dispensaries targeted by the feds had closed
, and a third was set to shut down by next Monday, the deadline imposed by warning letters from federal prosecutors. Signs in front of The Med Shed and Fresh Republic informed customers that the stores were closed, while the Hill Cannabis Club was advertising a going-out-of-business sale. The three Boulder dispensaries were among 25 statewide ordered to close by prosecutors in a recent round of threat letters. That's addition to 23 that closed earlier after a first round of threat letters.
Connecticut
Last Wednesday,
the House voted 96-51 to approve a medical marijuana bill
. The vote came despite a threat letter from the US Attorney two days earlier. The bill would allow some producers to cultivate and grow the marijuana, and licensed pharmacists could provide the marijuana to patients. Patients would need to requalify every year in order to keep smoking medical marijuana. It is supported by Gov. Daniel Malloy (D).
Michigan
On Tuesday,
a bill allowing state-regulated dispensaries was introduced in the House
. Introduced by Republican Rep. Mike Callton, House Bill 5880 would give localities the option of allowing dispensaries, or "provisioning centers," where patients could purchase up to 2.5 ounces of medical marijuana every 10 days. The
Marijuana Policy Project
supports the bill.
Montana
On Monday,
a former Miles City dispensary operator appealed his federal prison sentence
. Richard Flor, 68, was sentenced to five years in federal prison on April 19 despite suffering from numerous physical and mental ailments. Flor, his wife and his son, all pleaded guilty to drug charges related to a grow at their home and to his role as co-owner of Montana Cannabis, which was targeted in the March 2011 DEA sweep of the state.
Oregon
Last Saturday,
the Associated Press highlighted the race for the Democratic attorney general nomination
, in which the state's medical marijuana community has weighed in heavily for retired judge Ellen Rosenblum over former federal prosecutor Dwight Holton, who presided over medical marijuana raids while he was US Attorney. Rosenblum has portrayed herself as a friend of medical marijuana. Whoever wins the Democratic nomination will be the next attorney general, since Republicans have yet to manage to field a serious candidate.
On Tuesday,
DEA agents arrested six men whose gardens were raided by the agency last year
. The men were growing under the rubric of the Oregon Medical Marijuana Program, but appear to have had quantities of marijuana above and beyond what is allowed under the law.
Rhode Island
Last week,
the US Attorney for Rhode Island sent threat letters to property owners
who intend to lease space to dispensaries. US Attorney Peter Neronha cautioned owners that their property could be seized. He had also previously warned that the dispensaries, their landlords or investors could face civil or criminal sanctions, including the seizure of assets or property. Neronha met with Gov. Lincoln Chafee (I) last Tuesday, and told him that while the feds might target large-scale operations, they don't intend to prosecute patients. Chafee last year blocked dispensaries from opening in the face of federal threats and now supports legislation that would limit the amount of marijuana dispensaries could distribute in a bid to ease the federal threat.
(This article was published by StoptheDrugWar.org's lobbying arm, the Drug Reform Coordination Network, which also shares the cost of maintaining this web site. DRCNet Foundation takes no positions on candidates for public office, in compliance with section 501(c)(3) of the Internal Revenue Code, and does not pay for reporting that could be interpreted or misinterpreted as doing so.)