As of Tuesday, synthetic cannabis ("fake weed") products are illegal in Australia. The ban came when the Therapeutic Goods Administration placed eight groups of synthetic cannabinoids and all synthetic cannabinomimetics on the National Medical and Poisons Schedule.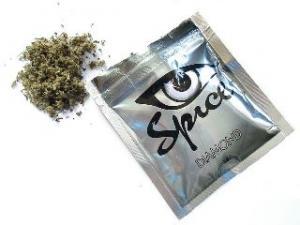 Fake weed is already banned in at least 16 countries and an ever-growing number of US states. The DEA issued an emergency ban on the substances last year, but a bill to make that ban permanent has been stalled in Congress by a hold placed on it by Sen. Rand Paul (R-KY).
Fake weed consists of powdered synthetic cannabinoids, which are then sprayed on herbal matter and marketed under brand names including Kronic, K-2, and Spice. They produce a high similar to marijuana and sometimes create undesired side effects in users similar to those sometimes experienced with marijuana. No deaths in the US have been directly linked to their use.
Possession, manufacture, or sale of fake weed is now a criminal offense in Australia with violators facing fines or jail, including up to 10 years in prison for manufacturing and distribution offenses.
The ban came after police last month called for urgent meetings with public health and drug authorities. The state of Western Australia last year requested consideration of a national ban and had banned fake weed in its territory last year after a spate of highly-publicized hospitalizations of users, but no other Australian state had enacted a ban.
"These products do not appear to have any legitimate therapeutic use and there is a developing international body of evidence and clinical experience that is showing harm related to use of these substances," said Western Australia Mental Health Minister Helen Morton, who had championed the ban there last year. "Removing synthetic cannabinoids from legal supply, sale and possession is expected to result in a significant decrease in consumption and the associated harm related to their use," she told
Perth Now
.
Ironically, the surge in fake weed use in Western Australia came as
the state government there toughened its marijuana laws last year
. Prior to the enactment of that law last August, possession of up to 30 grams of pot had been decriminalized, but under the new law, those possessing more than 10 grams face up to two years in prison. The cultivation of up to two plants had also been decriminalized, but is now punishable by up to two years in prison as well.