As of next week, supervised injection (and other drug consumption) sites will be legal in Denmark. Earlier this month, the Danish Parliament voted 63-43 to allow the facilities to open, including language that instructs police and prosecutors to not search, seize, and prosecute users in possession of "small quantities" of drugs.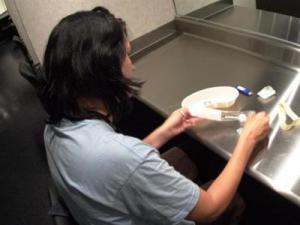 Just what "small quantities" are is up in the air at the moment. Guidelines from the attorney general say the amount should be 0.2 grams of heroin or cocaine or less, but a Supreme District Court ruling held that a man caught in possession of 1.37 grams of heroin had it for personal use.
The new law not only allows for supervised injection sites, but also allows Danish municipalities to establish facilities for smoking or snorting heroin or crack cocaine.
The law was impelled by the activism of the
Danish Street Lawyers
, who describe themselves as "hard core harm reducers," and who published a legal paper and press release during last year's election campaign calling for drug consumption rooms and arguing that the only obstacles to them were political -- not legal. Then, just days before last September's election, the nonprofit group
Social Entrepreneur
opened a mobile drug consumption room in Copenhagen, drawing more attention to the issue.
After a left-wing minority government won the election, the Liberal Alliance, one of the governing coalition's members, pushed for movement on drug consumption rooms, and after six months of inaction, the government finally introduced a bill in April. But the Street Lawyers objected to provisions of that bill, including one that required drug consumption room staff to report to police on their clients' whereabouts, and the bill was amended to remove the language.
Denmark will now join a small but growing number of countries that allow supervised injection sites as a harm reduction measure. Those countries include Australia, Canada, Germany, the Netherlands, Spain, and Switzerland.