by Bernd Debusmann Jr.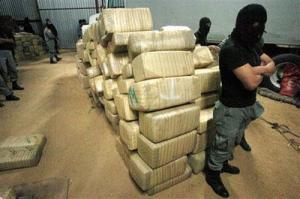 Mexican drug trafficking organizations make billions each year smuggling drugs into the United States, profiting enormously from the prohibitionist drug policies of the US government. Since Mexican president Felipe Calderon took office in December 2006 and called the armed forces into the fight against the so-called cartels, prohibition-related violence has killed more than 50,000 people, including more than 15,000 in 2010 and another 15,000 last year. The increasing militarization of the drug war and the arrests or killings of dozens of high-profile drug traffickers have failed to stem the flow of drugs -- or the violence -- whatsoever. The Merida initiative, which provides $1.4 billion over three years for the US to assist the Mexican government with training, equipment and intelligence, has so far failed to make a difference. Here are a few of the latest developments in Mexico's drug war:
Friday, January 20
In Durango,
a high-ranking aide to Sinaloa Cartel leader Joaquin "El Chapo" Guzman was shot and killed
by an army special operations unit. Luis Alberto Cabrera Sarabia, "the Engineer," is thought to have been responsible for cartel operations in Durango and parts of Chihuahua. One gunman was killed in the operation and eleven were taken into custody. Four soldiers were wounded during the gun battle.
Saturday, January 21
In Ciudad Juarez,
a police officer was shot and killed on his way to work.
A police spokesman said the officers were in a private vehicle when they were cut off by another car and several men opened fire.
In Sonora,
a high-ranking Sinaloa Cartel figure was captured
near the city of Cananea. Fidel Mancinas Franco is thought to have been in charge of cartel operations in Nogales, Agua Prieta, Naco and Cananea. He is also wanted in the United States in connection with the deaths of 11 migrants in 2009.
Sunday, January 22
In Atoyac de Alvarrez, Guerrero,
eight men were killed at a funeral
for a man shot days earlier. The men were attacked by men wielding automatic weapons.
In Acapulco, three bodies were found in an empty lot. Another individual was found decapitated in a car and a fifth died during an exchange of fire with the police.
Monday, January 23
In Veracruz,
Mexican marines took over the duties of the local transit police
. The move is designed to root out corrupt elements of the force, which, like the Veracruz municipal police, is thought to have been thoroughly infiltrated by organized crime groups.
In Ciudad Juarez,
at least eight people were murdered.
In one incident, four men were shot and killed when gunmen stormed a house in the south of the city. Earlier in the day, a naked body bound in duct tape was thrown from a moving car, along with a note from a criminal group.
In Saltillo, Coahuila,
four gunmen were killed by the army
. A local university was temporarily locked down during the incident.
Also in Saltillo,
army and police forces conducted operations
inside several penal facilities looking for drugs, weapons and other suspicious items.
Tuesday, January 24
Near Mexico City,
five police officers were ambushed and killed
as they made a traffic stop in Ixtapaluca. The officers had stopped a vehicle when a taxi and a minivan pulled up and they were shot at by gunmen with assault rifles. Police suspect the incident was an attempt to free people who had been taken into police custody.
Across Ciudad Juarez,
banners threatening the municipal police
were hung at various locations. Some of the notes also mention police Chief Julian Leyzoala by name. The banners were taken down and police stations in the city were put on high alert.
Two officers were
shot and killed
as they traveled in a private Ford Mustang in the city. At least five municipal police officers have been killed so far in 2012.
[
Editor's Note: We are no longer going to keep a running tally of the death toll; the figures are too unreliable. The latest figures below were released by the Mexican government in January.]
Total Body Count for 2007 (approx.): 4,300
Total Body Count for 2008 (approx.): 5,400
Total Body Count for 2009 (approx.): 9,600
Total Body Count for 2010 (official): 15,273
Partial Body Count for 2011 (official): 12,093*
Total Body Count (official): 47,705*
* Official figures through September 30, 2011. Unofficial estimates put the entire year's death toll at around 16,000, meaning more than 50,000 people have been killed by the end of 2011.