by Bernd Debusmann Jr.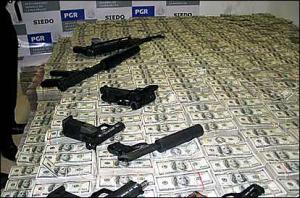 Mexican drug trafficking organizations make billions each year smuggling drugs into the United States, profiting enormously from the prohibitionist drug policies of the US government. Since Mexican president Felipe Calderon took office in December 2006 and called the armed forces into the fight against the so-called cartels, prohibition-related violence has killed more than 45,000 people, including more than 15,000 in 2010 and approximately 12,000 last year. The increasing militarization of the drug war and the arrests or killings of dozens of high-profile drug traffickers have failed to stem the flow of drugs -- or the violence -- whatsoever. The Merida initiative, which provides $1.4 billion over three years for the US to assist the Mexican government with training, equipment and intelligence, has so far failed to make a difference. Here are a few of the latest developments in Mexico's drug war:
Wednesday, January 4
In Altamira Prison in Tamaulipas,
a clash between groups of rival inmates left 31 dead.
Another 13 were wounded in the incident, which began when a group of men stormed a wing of the prison which they were forbidden from entering. Local media reported that the fighting was between members of the Gulf Cartel and the Zetas, but that has not been confirmed. Later on, twenty prisoners were detained for their part in the fight.
Thursday, January 5
In Michoacan,
five bodies were found abandoned
in a burning SUV. Authorities believe the five men were all cartel gunmen killed during intense gun battles between rival local criminal organizations.
In Tijuana, a
Sinaloa Cartel figure was arrested.
Omar Cabrera Bengoecha, "R-12," is alleged to be a former municipal police officer who worked for a faction of the Tijuana Cartel that broke away from the Arellano-Felix Organization and allied with El Chapo Guzman's Sinaloa Cartel. In 2008, Cabrera Bengoecha was dismissed from the police force for his involvement in illicit narcotics transport.
Saturday, January 7
In Nuevo Leon,
authorities announced the arrest of four men
for participating in a kidnapping cell. One of the men was suspended professional goalkeeper Omar "El Gato" Ortiz. It is alleged that the gang -- which is tied to the Gulf Cartel -- participated in at least 20 kidnappings.
Monday, January 9
In Michoacan,
13 bodies were discovered dumped
at a gas station near the town of Zitacuaro. At least two of the dead were minors. All the dead individuals were male and most had been shot in the head and tortured. A message left at the scene led authorities to believe the killings are in relation to the ongoing struggle between La Familia Michoaca and an offshoot group known as the Knights Templar.
In Ciudad Juarez,
at least seven people were murdered in two multiple homicides
. In one incident, a woman and three men were taken from their home by five heavily armed gunmen and executed. According to reports, the suspects wore black uniforms and said they were federal police officers. While the five men searched the home for drugs, at least ten other gunmen stood watch outside.
Tuesday, January 10
In Nuevo Leon,
an army patrol killed four gunmen
during an engagement near the municipality of Cerralvo, about 50 miles from the Texas border. A woman was seriously wounded in the fighting, but it is unclear if she was a kidnapping victim or lived at the rural location. Several weapons and vehicles were captured.
In Washington,
the Treasury Department said in a statement
that they were placing two Mexicans and a Colombian national on Specially Designated Narcotics Traffickers list for their involvement with Joaquin "El Chapo" Guzman, whom they called the world's most powerful drug trafficker.
In Ciudad Juarez,
one municipal police officer was killed
and five others wounded after being attacked by a group of gunmen. Five civilians were also wounded in the attack.
In Ciudad Victoria, Tamaulipas,
authorities disarmed a car bomb
left outside a state police facility.
Wednesday, January 11
In Mexico City,
two bodies were found in a burning SUV
left outside a high-end shopping mall in the city's Sante Fe area. A note left at the scene was signed by a local organization known as the "Hand with Eyes." Both victims had been decapitated.
[
Editor's Note: Our 2011 estimated death toll is 12,150, pending the release of official figures. Our new 2012 death toll is also an estimate.]
Total Body Count for 2007 (approx.): 4,300
Total Body Count for 2008 (approx.): 5,400
Total Body Count for 2009 (approx.): 9,600
Total Body Count for 2010 (official): 15,273
Total Body Count for 2011 (approx.): 12,150
Total Body Count for 2012: (approx.) 100
TOTAL: > 46,000