by Bernd Debusmann Jr.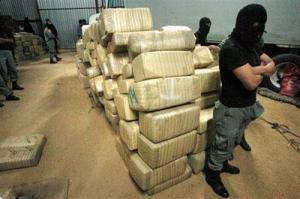 Mexican drug trafficking organizations make billions each year smuggling drugs into the United States, profiting enormously from the prohibitionist drug policies of the US government. Since Mexican president Felipe Calderon took office in December 2006 and called the armed forces into the fight against the so-called cartels, prohibition-related violence has killed more than 45,000 people, including more than 15,000 last year and approximately 12,000 this year. The increasing militarization of the drug war and the arrest or killing of dozens of high-profile drug traffickers have failed to stem the flow of drugs -- or the violence -- whatsoever. The Merida initiative, which provides $1.4 billion over three years for the US to assist the Mexican government with training, equipment and intelligence, has so far failed to make a difference. Here are a few of the latest developments in Mexico's drug war:
Thursday, December 22
In Veracruz, suspected Zetas
attacked three passenger
buses
with gunfire and a grenade in an apparent robbery spree, killing eleven people. Three of the dead were later confirmed to be US citizens who were visiting relatives in Mexico for the holidays. The army later announced that it killed the five gunmen after they were shot at attempting to arrest them.
Friday, December 23
In Culiacan,
army commandos captured the head of security for the Sinaloa Cartel.
Felipe Cabrera Sarabia, "The Engineer," is thought to have run cartel operations in Durango and in part of Chihuahua. No shots were fired during the arrest operation. Over the course of 2011, Cabrera was involved in a bloody dispute with another Sinaloa Cartel faction in the state of Durango.
In the port of Manzanillo, authorities seized 21 metric tons of precursor chemicals used to produce crystal meth on a ship headed towards Guatemala.
In Tampico Alto, Veracruz,
ten bodies were discovered.
The bodies all bore signs of having been tortured and several were decapitated.
In Los Mochis, Sinaloa, three decapitated bodies were discovered at a location where the body of a municipal police officer was found on December 18th.
Saturday, December 24
In Michoacan,
the body of a teenage American citizen was found
in the trunk of a burned car along with two others. The teenager, Alex Uriel Marron, 18, was reportedly from the Chicago area and visiting family in the village of Quiringuicharo.
In Saltillo, Coahuila, three
gunmen were killed in a fire fight with police
. A fourth person was wounded. Several assault rifles were confiscated from a car in which the gunmen were traveling.
Sunday, December 25
In Tamaulipas,
authorities discoved 13 bodies in an abandoned truck
just across the state border from Veracruz. A banner left with the bodies indicated that the killings were due to an ongoing cartel battle for control of the Veracruz region.
Tuesday, December 27
In Mexico City,
the leader of a small cartel was arrested at the airport.
Luis Rodriguez Olivera, "Whitey," is thought to have been head of the "Blondies" Organization which has been allied to several larger cartels. US authorities were offering a $5 million reward for his capture, and accuse him and a brother of smuggling cocaine and meth to the US and to Europe.
In Nuevo Leon, police discovered seven bodies buried in a shallow pit or in a well. The bodies, which were found in Linares and Montemorelos, were discovered using information provided by a group of captured kidnappers alleged to be Zetas.
In Sinaloa,
a former high-ranking federal police official was sentenced to 10 years
for helping the Sinaloa Cartel. Javier Herrera Valles was arrested in 2008, although the arrest was controversial because he had recently accused some of his commanding officers of corruption or incompetence.
Wednesday, December 28
In Michoacan,
six gunmen were killed in two separate clashes
with the army. In the first, which took place Wednesday night, three men were killed after encountering an army patrol in the Buenavista Tomatlan area. Later, early Thursday morning, another three were killed in a nearby village. All the dead men are thought to be members of the Knights Templar Organization, which is active in the area. In 2011, troops in 21st military district in Michoacan shot dead a total of 91 gunmen from several organizations.
In Ciudad Juarez,
a leading cartel enforcer was arrested by police.
Arturo Bautista, 31, "El Mil Amores," is thought to be a high-ranking member of La Linea, the enforcement arm of the Juarez Cartel. It is unclear, however, if that is his real name. He has been identified as a resident of El Paso, Texas. Bautista was arrested along with three other men after the murder of a woman whom police say was thought to have been passing intelligence to a rival criminal group.
Friday, December 30
In Veracruz,
the Zetas hung up a banner stating they were not responsible
for the December 22 bus attacks which killed at least seven people, including three US citizens. The banners claim that corrupt police officers were responsible for the attacks.
In Coahuila,
seven suspected Zetas were captured by the army on the Saltillo-Torreon highway.
One of the men was identified as a high-ranking member, but the army has so far not identified him.
Saturday, December 31
In Ciudad Juarez,
at least four people were murdered
in several incidents. According to researcher Molly Molloy, this brings the city's 2011 homicide numbers to 1,980 for the year. This is nearly 40% lower than the 3,622 murders that took place in 2010, but still considerably higher than the 2008 total of 1,623. In total, since 2007, 10,299 homicides have taken place in Ciudad Juarez. February was the bloodiest month in 2011, with 231 murders having taken place.
Sunday, January 1
In Mexico City, the
National Human Rights Commission
said that they concluded that five men held in connection with a July 2010 car bombing in Ciudad Juarez had been tortured to obtain confessions. They recommended that six federal police officers and a doctor be questioned in relation with the incident. The men were also accused of the killings of two federal agents. Although cleared in those incidents, the men remain incarcerated on narcotics and weapons charges.
Tuesday, January 3
In Sonora,
at least five people were murdered.
In one incident, the bodies of three young men were found on the side of a highway. In another part of the state, two men were found dead in a bullet-riddled truck. Several weapons, including an AK-47 were found in the truck.
Drug-related violence was confirmed in at least six other states, with nine people confirmed dead.

[Editor's Note: Our 2011 estimated death toll is 12,150, pending the release of official figures.Our new 2012 death toll is also an estimate.]

Total Body Count for 2007 (approx.): 4,300

Total Body Count for 2008 (approx.): 5,400

Total Body Count for 2009 (approx.): 9,600

Total Body Count for 2010 (official): 15,273

Total Body Count for 2011 (approx.): 12,150

Total Body Count for 2012: (approx.) 15

TOTAL: > 46,000