An initiative that would legalize the limited possession of marijuana in the state of Washington and tax and regulate its commerce is headed for the November ballot to be decided by the voters after the state legislature punted on the matter last Thursday.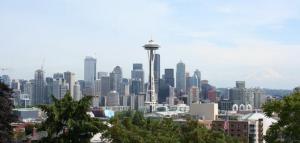 Initiative 502
campaigners handed in more than the 241,153 valid voter signatures required to be certified for the ballot by state officials. But under Washington law, such initiatives are first considered by the legislature, which has the chance to approve them itself.
The initiative was before the House State Government and Tribal Affairs Committee, but its chair, Rep. Sam Hunt (D-Olympia) said Thursday the committee, and thus the legislature, would take no action.
Passage would have been difficult in the legislature under ordinary circumstances, but was even more difficult because the initiative includes provisions raising taxes (in this case, on marijuana). Any initiative with tax increases requires a two-thirds vote in the legislature.
If passed, the measure would make Washington the first state to legalize the possession and commerce in marijuana and would put it on a collision course with the federal government.
The measure would allow adults 21 and over to possess up to an ounce of pot or a pound of marijuana edibles, and they could buy it through state-run stores, much the same way the state handles liquor sales. The state stores would obtain their product from state-licensed growers and processors, with a 25% excise tax at each stage.
The initiative campaign is being run by
New Approach Washington
, which has brought together an impressive roster of endorsers and supporters, including TV personality and travel writer Rick Steves, former US Attorney for Western Washington, and a number of current and former state elected officials.
"Locking people up and putting handcuffs on them is not the way to resolve our society's issues with regard to marijuana," McKay, told legislators Thursday.
While most of the opposition to the initiative so far is coming from the usual suspects -- law enforcement, drug treatment providers -- some of it is coming from a segment of the state's medical marijuana community, which worries that the measure's setting a limit on THC levels to determine impairment in drivers could result in non-impaired patients being prosecuted.
But Dr. Kim Thorburn, Spokane County's former top public-health official, who spoke in support of the initiative, said those concerns were overblown. "In order to be stopped for impaired driving you have to show impairment," she said. "This is not a concern for medical-marijuana users and has been kind of a red herring that has been raised."
Now, it will be up to the voters to decide whether Washington becomes the first state to legalize marijuana, although by election time, they may not be alone. A similar initiative in Colorado is busy seeking a final 2,500 signatures to qualify for the ballot, while legalization initiative efforts are ongoing in California, Michigan, Missouri, Montana, and Nebraska.