Last week, we reported on armed resistance against Lebanese government marijuana plant eradication teams in the Bekaa Valley, one of the world's leading hashish-producing regions. The country's Internal Security Forces (ISF) aren't having much easier going this week, though at least no one is shooting at them.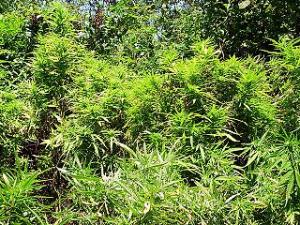 But if no one is shooting, no one is cooperating, either, according to the
Daily Star
. The Beirut newspaper reported that the ISF had to postpone operations to destroy marijuana fields in Hermel Tuesday after it was unable to hire enough bulldozers to plow the plants under.
The bulldozer owners in the area are refusing to rent out their machinery for eradication operations out of fear they will be targeted by the marijuana growers. They pointed to skirmishes on the outskirts of Baalbek last week that left one policeman wounded and two police vehicles damaged. Of more direct concern to the bulldozer owners, 15 tractors were attacked during that incident, and the drivers said they were warned against participating in the crackdown.
ISF units accompanied by the Central Office of Drug Control and the Lebanese Army headed to Hermel to begin eradication there Tuesday morning, but had to abort the operation when the bulldozers failed to arrive. The Daily Star also reported that the forces on the ground decided to delay the operation "to avoid confrontations between prominent families in the area."
Lebanon is one of the world's leading hash producers, and the Bekaa Valley has long been known as a site of cannabis production. During the Lebanese civil war, the trade blossomed into a multi-billion dollar business, but after the war, the government banned it in 1992, and has undertaken eradication operations with varying degrees of enthusiasm each year since.
Farmers in the Bekaa say their area has been poor and marginalized for decades and that attempts to come up with substitute crops have been ineffective. Efforts to get farmers to switch to crops like sunflowers, saffron, and tobacco have not gone well, with the crops proving unsuitable for the environment and not as profitable as marijuana, and support for crop substitution programs has been inconsistent.
The eradicators have about another month to get at the sticky cash crop before Lebanese harvest season begins in earnest.