Delegates at the Colorado Democratic Party state convention in Pueblo Saturday formally endorsed Amendment 64, the Regulate Marijuana Like Alcohol Act. Because support for the initiative was so strong at the convention, the endorsement becomes part of the party's "essential" platform.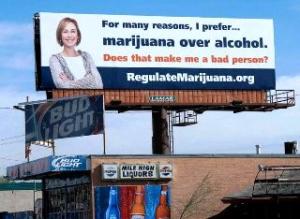 The initiative had already won the support of Democrats in 15 counties, including eight of the 10 most populous. Those counties are Boulder, Delta, Denver, Douglas, Eagle, Elbert, El Paso, Garfield, Jefferson, La Plata, Larimer, Pitkin, Pueblo, Routt, and Weld.
"This is a mainstream issue," said Cindy Lowery-Graber, chair of the Denver Democratic Party. "Polls show that more than 60% of Democrats and a solid majority of independents believe marijuana should be treated like alcohol. A broad coalition is forming in support of Amendment 64 and I am proud to say that it now includes the Colorado Democratic Party."
It's not just Democrats and independents who are supporting the notion of marijuana regulation. Last month,
the Denver County Republican Assembly approved a resolution calling for just that
, although they did not explicitly endorse Amendment 64. That resolution got 56% of the vote.
"While there may be more support among Democrats and independents, this is quickly becoming a popular position," the campaign's Mason Tvert told
Westword
over the weekend. "Supporting an end to marijuana prohibition and regulating marijuana like alcohol is a position that spans the political and ideological spectrum."
Colorado is not the only state where marijuana legalization will be on the ballot in November. A similar measure has qualified in Washington state. Signature-gathering campaigns are ongoing in a number of other states, with Montana and Oregon appearing to have the best shot of making the ballot.