A long-awaited report from Canadian researchers is recommending that Toronto could use three supervised drug injection sites and Ottawa could use two. The report said the sites would be a good health care investment, would reduce drug use, and would reduce the rate of new HIV and hepatitis C infections.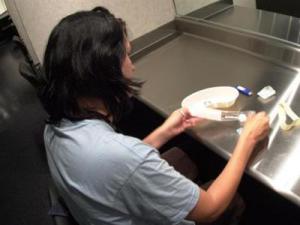 The study, the
Toronto and Ottawa Supervised Consumption Assessment
(TOSCA), did not make specific location recommendations for the sites, saying that should be left up to the cities themselves, should they decided to follow the recommendations.
"Supervised injection facilities in Toronto have the potential to offer meaningful improvements for the health of people who use drugs," said the study's co-principal investigator, Dr. Ahmed Bayoumi from the Center for Research on Inner City Health at St. Michael's Hospital. "The facilities could also make neighborhoods where drug use is common more livable."
But within hours after the study was released, some Toronto elected officials were expressing hesitation.
Deputy Mayor Doug Holyday told the
Toronto Star
local official need to see all the "facts and figures" behind the study before they decide to approve a safe-injection site. "I have some doubts as to whether or not there is real benefit and whether or not you don't just attract more problems so I would like to really get the thorough results of other places that have done this and I'd like to hear from other experts on the matter," he said.
"There has not been enough research done on the topic in Toronto -- whether that is the way to go with Toronto," echoed Councillor John Filion, chair of the city's board of health, which will consider TOSCA's recommendations.
Toronto Police Chief Bill Blair told reporters late Wednesday that he opposes supervised injection sites, a stance that TOSCA noted in its report. "My concern is there need to be sufficient assurances within the community that the quality of life will not be put in jeopardy," Blair said.
But not everyone at City Hall was so hesitant. There is already ample evidence of the benefits of supervised injection sites, Councillor Gord Perks, chair of the Toronto Drug Strategy Implementation Task Force, told the Star.
"We have today in front of us research that shows there are lives to be saved, money to be saved and neighborhoods to be improved," said Perks. "When you have differing views you go to the evidence, and the evidence is clear -- supervised injection sites save money, save lives and improve the quality of our neighborhoods."
The province of Ontario said it was open to evidence, but had no immediate plans to move forward.
"We are always prepared to listen to good advice, and we make our decisions based on evidence," Health Minister Deb Mathews said in a written statement Wednesday. "Experts continue to be divided on the value of the sites. We have no plans to pursue supervised sites at this time."
Canada's only operating supervised injection site is
InSite
in Vancouver. It is operating under an exemption from Canada's drug laws, much to the chagrin of the Conservative national government. Any future supervised injections sites would have to win similar exemptions. But at this point, worrying about that seems premature.