A Missouri technical college's plan to force incoming students to undergo suspicionless drug testing is on hold after the ACLU of Eastern Missouri successfully sought a temporary injunction in federal court in St. Louis on September 14. With assistance from Students for Sensible Drug Policy, the group has filed a lawsuit on behalf of six Linn State Technical College students to challenge the constitutionality of the drug tests.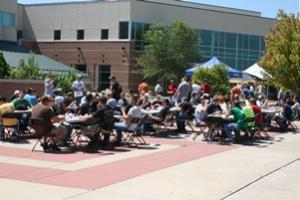 Federal courts consider a drug test to be a search under the Fourth Amendment and have allowed only limited exceptions to the amendment's requirement that searches need a warrant based on reasonable suspicion. Those drug testing exceptions include people working in jobs that impact the public safety (truck drivers, airline pilots), police involved in drug law enforcement, and minor students who participate in high school athletic or other extracurricular activities.
Linn State administrators implemented the
drug testing program
this fall. It requires all first-year students and some returning students to be screened -- at their own expense -- for drugs, including marijuana, cocaine, methamphetamines, and opiates.
Linn State admits in its drug testing FAQ that it does not believe "LSTC has any greater student drug use issue than other colleges," but justifies the drug testing by saying it is preparing students for the real world. "Drug screening is becoming an increasingly important part of the world of work," the FAQ said. "It is also believed it will better provide a safe, healthy, and productive environment for everyone who learns and works at LSTC by detecting, preventing, and deterring drug use and abuse among students."
The drug testing program at Linn State would be the first of its kind among public institutions of higher learning in the US. The ACLU is determined not to let that happen.
"It is unconstitutional to force students to submit to a drug test when there is zero indication of any kind of criminal activity," said Jason Williamson, staff attorney with the ACLU Criminal Law Reform Project. "The college has demonstrated no legitimate need to drug test its students that outweigh their constitutionally protected privacy rights. This is an unprecedented policy and nothing like it has ever been sanctioned by the courts."
"This is an invasive policy that requires people to submit to tests that reveal private and intimate things like medical conditions or whether they are pregnant that people have a right to protect, said Anthony Rothert, legal director of the ACLU of Eastern Missouri. "A person's privacy should not be invaded like this, especially when they have done nothing wrong and when there's not even an allegation that they've done something wrong."
With the issuance of the temporary restraining order, the ACLU and the Linn State students it represents have won an initial victory. Now, they must convince the court in St. Louis that their temporary victory should be made permanent.