by Bernd Debusmann Jr.

Mexican drug trafficking organizations make billions each year smuggling drugs into the United States, profiting enormously from the prohibitionist drug policies of the US government. Since Mexican president Felipe Calderon took office in December 2006 and called the armed forces into the fight against the so-called cartels, prohibition-related violence has killed around 40,000 people, including more than 15,000 last year. The increasing militarization of the drug war and the arrest or killing of dozens of high-profile drug traffickers have failed to stem the flow of drugs -- or the violence -- whatsoever. The Merida initiative, which provides $1.4 billion over three years for the US to assist the Mexican government with training, equipment and intelligence, has so far failed to make a difference. Here are a few of the latest developments in Mexico's drug war: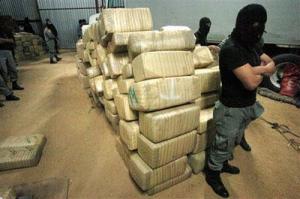 Wednesday, August 31
In Mexico City,
two female journalists were found murdered
. Ana Maria Marcela Yarce Viveros and Rocio Gonzalez Trapaga were discovered by joggers in a park in a working class neighborhood. Both were naked. Yarce was a reporter for the investigative journalism magazine Contralinea and Gonzalez was a freelance journalist who used to work for Televisa.
Friday, September 2
Near Reynosa,
police discovered the body of a top Gulf Cartel boss.
Samuel Flores Borrego, 39, also known as "El Metro 3," appears to have been killed by members of his own organization for reasons that remain unknown. The body of Flores was found alongside that of a police officer. Both men had been shot. Flores, for whom the US Government had been offering a $5 million reward, is widely credited with being responsible for the bloody rift between the Gulf Cartel and their former enforcers, the Zetas, after he killed a high-ranking member of the Zetas in January 2010 in Reynosa. His replacement has already been identified as his former second-in-command, Mario Armando "Pelon" Ramirez Trevino.
In Hidalgo
, 16 police officers were among 31 suspects taken
into custody on suspicion of working for the Zetas. Authorities said that the arrests came after a cartel payroll was discovered during an arrest. Hidalgo is the home state of Zeta boss Heriberto Lazcano Lazcano, "El Lazca."
In Mexico City, President Calderon
delivered a state of the nation speech
in which he vowed to clean up corruption in Mexico's police forces by the time he leaves office by the time he leaves office in December 2012. He also announced the creation of a special federal prosecutor who will be in charge of identifying victims of the violence and find people who have disappeared.
Sunday, September 4
In Torreon,
six people were killed
during a series of incidents near the city's main stadium. Among the dead were three police officers who were killed after being ambushed by heavily armed gunmen. The same stadium was the scene of an August 20 shooting, which caused spectators and players to panic and run for cover. The game was called off.
Monday, September 5
In Nogales,
police discovered an underground tunnel
dug into a drainage tunnel that leads into the United States. Police found the tunnel using information they received after the discovery of another tunnel on August 16. Nogales is across the border from Nogales, Arizona.
In Jalisco
, a high-ranking Sinaloa Cartel member was recaptured
40 days after escaping from a Mexico City hospital where he was taken after his original arrest on May 12. Guajardo Hernandez, "El Guicho," is known to have operated in Baja California and had an important role in arranging shipments of cocaine from Colombia to Mexico.
Tuesday, September 6
In Mexico City,
authorities announced that an American citizen was arrested
last week for smuggling grenades to the Sinaloa Cartel. Jean Baptise Kingery was arrested in Mazatlan, Sinaloa. Kingery was also arrested in Arizona in August 2010, but was released, purportedly so that American law enforcement agencies could use him as an informant or in a sting operation.
[Editor's Note: We can no longer accurately enumerate the number of deaths in the Mexican drug wars this year. The Mexico City newspaper El Universal had been running a tally on which we relied, but it stopped. Our estimate for this year's death toll is just that -- an estimate.]
Total Body Count for 2007 (approx.): 4,300
Total Body Count for 2008 (approx.): 5,400
Total Body Count for 2009 (approx.): 9,600
Total Body Count for 2010 (official): 15,273
Total Body Count for 2011: (approx.): 7,000