by Bernd Debusmann Jr.

Mexican drug trafficking organizations make billions each year smuggling drugs into the United States, profiting enormously from the prohibitionist drug policies of the US government. Since Mexican president Felipe Calderon took office in December 2006 and called the armed forces into the fight against the so-called cartels, prohibition-related violence has killed around 40,000 people, including more than 15,000 last year. The increasing militarization of the drug war and the arrest or killing of dozens of high-profile drug traffickers have failed to stem the flow of drugs -- or the violence -- whatsoever. The Merida initiative, which provides $1.4 billion over three years for the US to assist the Mexican government with training, equipment and intelligence, has so far failed to make a difference. Here are a few of the latest developments in Mexico's drug war: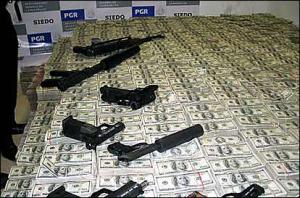 Wednesday, October 5
In Culiacan, Sinaloa,
a top Sinaloa cartel leader was arrested
without incident. Noel Salguiero Navarez, "El Flaco Salguiero," was the head of La Gente Nueva, which is considered the armed wing of the Sinaloa Cartel operating in Chihuahua and several other states. He is also thought to have been leading the Sinaloa Cartel's push to take Ciudad Juarez.
Thursday, October 6
In Veracruz
, 32 bodies were discovered
at three locations. The discovery came after Marines took eight members of the Jalisco New Generation Cartel prisoner, who then led them to the locations. The government alleges that these men, who call themselves Zeta-Killers, are also responsible for the 35 bodies found on September 20.
Additionally, 12 members of the Zetas were captured, including Aguiles Amaranto Cruz Hurtano, the Zeta boss for the Veracruz region.
Friday, October 7
In Veracruz, Attorney General Reynaldo Esperez Perez resigned his office in the area. Escobar Perez was in office for only seven months. He is to be replaced by his deputy.

Near Monterrey, authorities announced that several police officers are being detained for allowing kidnap victims to be housed by their kidnappers in a local jail while negotiations were taking place. The hostages were rescued earlier in the week. The officers are thought to have been working for the Zetas.

Saturday, October 8

In Veracruz, 10 more bodies were discovered. Seven of the dead were discovered in the bed of a truck and the other three were found on roadsides in two different locations.

In Linares, Nuevo Leon, the entire police force of over 100 men was taken into custody for possible corruption and ties to drug trafficking groups. They were all driven out of the town on buses while the investigation continues. Mexican soldiers and federal police will take over policing duties in the town.

In Ciudad Juarez, at least seven people were killed. Among the dead were three men who were gunned down in the parking lot of a store in front of dozens of horrified witnesses.

Sunday, October 9

In Zacatecas, six police officers were killed in an ambush. The policemen were returning to the city of Valparaiso from a party when they were intercepted by a group of men wielding assault rifles and hand grenades.

In Ciudad Juarez, at least seven people were murdered in four separate incidents. In one incident, two boys, aged 16 and 17, were gunned down inside a home in the El Papolote area of the city. Later that afternoon, three men were killed inside a home in the Fray Garcia de San Francisco area.

Tuesday, October 11

In Mexico City, the Navy announced that 11 cartel members were killed and 36 captured during five days of raids in several parts of Tamaulipas. Additionally, four tons of marijuana was seized from two locations and 251 grenades were confiscated. Among those captured was the Gulf Cartel chief for the city of Miguel Aleman.

In downtown Monterrey, three men were shot and killed in separate incidents. In one incident, a 51-one year old man was shot and killed with an AK-47 after his car was intercepted by unknown gunmen.
Wednesday, October 12

In Reynosa, authorities discovered the body of the Gulf Cartel's main financial operator. Cesar Davila Garcia, "El Gama" had had apparently been killed by unknown parties with a 9 mm handgun that was found at the scene. At one point, Davila Garcia had been the personal accountant of former Gulf Cartel leader Ezequiel Cardenas-Guillen, "Tony Tormenta," before his death in November 2010. He was briefly given control of the Tampico region before being sent to Reynosa to assume his duties as the cartel's main financial operator

[Editor's Note: We can no longer tally this year's drug war deaths in Mexico with any degree of accuracy. The figure for this year's deaths is an estimate, no more, until there is some official toll.]

Total Body Count for 2007 (approx.): 4,300

Total Body Count for 2008 (approx.): 5,400

Total Body Count for 2009 (approx.): 9,600

Total Body Count for 2010 (official): 15,273

Total Body Count for 2011: (approx.): 7,800

TOTAL: > 42,000