by Bernd Debusmann Jr.

Mexican drug trafficking organizations make billions each year smuggling drugs into the United States, profiting enormously from the prohibitionist drug policies of the US government. Since Mexican president Felipe Calderon took office in December 2006 and called the armed forces into the fight against the so-called cartels, prohibition-related violence has killed around 40,000 people, including more than 15,000 last year. The increasing militarization of the drug war and the arrest or killing of dozens of high-profile drug traffickers have failed to stem the flow of drugs -- or the violence -- whatsoever. The Merida initiative, which provides $1.4 billion over three years for the US to assist the Mexican government with training, equipment and intelligence, has so far failed to make a difference. Here are a few of the latest developments in Mexico's drug war: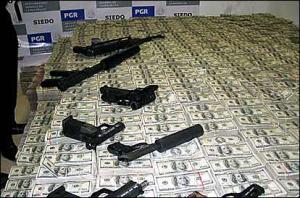 Wednesday, September 28
In Ciudad Juarez
, at least four people were murdered
. In the Granjas de Chapultepec neighborhood, a family of three was executed in their home after it was attacked by a group of at least eight hooded gunmen.
Thursday, September 29
In Monterrey
, three men were shot dead
by heavily armed gunmen. Reports indicate that the victims were driven to the scene of the crime by men traveling in SUVs, who lined them up against a wall and executed them.
Friday, September 30
In Veracruz,
Mexican marines captured a wanted Zeta hit man
. Angel Mora, also known as "Comandante Diablo," was captured alongside one other man. Mora is thought to operate in Veracruz and Boca Del Rio and is suspected of being involved in the killing of three marines in Late July.
In Ciudad Juarez,
September ended with 146 murders
. This is an increase from the 122 killed in August, but fewer than the 218 killed in July. February was the bloodiest month in the city this year, with at least 231 murders haven taken place.
According to statistics kept by researcher Molly Molloy, the death toll this year in Juarez is approximately 1,600, or about 5.8 a day. The death toll since January 2008 is over 9,000. October 2010 was the city's most violent month, with 350 murders.
Saturday, October 1
In New Hampshire, Republican presidential candidate Rick Perry
said that he is open
to sending American troops to Mexico to help the Mexican government combat drug cartels. Perry compared the situation in Mexico today to that of Colombia in the late 1980s and early 1990s.
"I think we have to use every aspect of law enforcement that we have including the military. I think we have the same situation as we had in Colombia. Obviously, Mexico has to approve any type of assistance that we can give them," he said.
Sunday, October 2
In Zihuatenejo, Guerrero
, seven bullet-riddled bodies were discovered
near a downtown bus station. A note left with the bodies claimed to be from the Knights Templar organization, an off-shoot of La Familia Michoacana.
In Mazatlan,
three men and two women were gunned down outside a liquor store.
Mazatlan is a well-visited tourist resort in the state of Sinaloa, which is widely considered the historical birthplace of drug trafficking in Mexico.
Monday, October 3
In Mexico City,
police discovered two severed heads
near to the city's most important military facility. It is the first multiple decapitation reported in Mexico City since January 2008. A note left near the heads mentioned the "Hand with Eyes" organization. Mexico City has been largely spared from drug-related violence.
In Nuevo Leon,
175 local police officers were arrested
during a three-day sweep of Apodaca, Pesqueria, Mina, and Santa Catalina. At least 7 of the 82 officers detained in Apodaca are thought to have been involved in the August murder of a man who was detained after being caught spying on the officers.
In Nicaragua,
police arrested three men
thought to have been recruiting men to go to Mexico and fight for the Zetas. The three men had apparently been tasked with identifying men with military experience and offering them $2,000 a month to go to Mexico. A fourth suspect has been identified, and is alleged to have been paid $4,000 per recruit.
Tuesday, October 4
Near Veracruz,
nine previously escaped inmates were recaptured
during a marine raid on a suspected Zeta camp in a rural area outside the city. Five other suspects were taken into custody during the operation.

In Tijuana,
358 kilograms of cocaine were seized near the border with the US. It is unclear to whom the shipment belongs, but a similar operation carried out a week ago netted 232 kilograms which are thought to belong to El Chapo Guzman's Sinaloa Cartel.
In Acapulco
, two men were shot dead inside a shop
. At least two vehicles, including a Hummer, were set on fire by the gunmen as they made their escape.
In Michoacan,
a federal anti-narcotics unit captured
one of the last remaining members of La Familia Michoacana, Martin Rosales Magana. Three other men were taken into custody during the operation. Federal authorities say that Rosales was planning a mass attack on the rival Knights Templar Organization with some 200 gunmen.
[Editor's Note: We can no longer tally this year's drug war deaths in Mexico with any degree of accuracy. The figure for this year's deaths is an estimate, no more, until there is some official toll.]
Total Body Count for 2007 (approx.): 4,300
Total Body Count for 2008 (approx.): 5,400
Total Body Count for 2009 (approx.): 9,600
Total Body Count for 2010 (official): 15,273
Total Body Count for 2011: (approx.): 7,500