Mexico's ambassador to the US reiterated Monday that deploying US troops to Mexico to help fight violent drug trafficking organizations is not an option. Ambassador Arturo Sarukhan was responding to remarks made by GOP presidential contender Texas Gov. Rick Perry.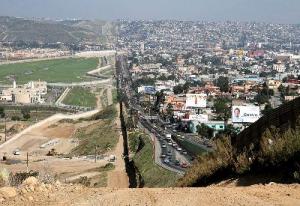 On Saturday, Perry raised eyebrows by suggesting on the campaign trail that Mexico's problems with the so-called cartels might require US military assistance. His comments came in response to a question while campaigning in New Hampshire.
"It may require our military in Mexico working in concert with them to kill these drug cartels and to keep them off of our border and to destroy their networks,"
Perry said
.
That idea wouldn't fly,
Sarukhan said in remarks to reporters Monday
. "The issue of participation, or the presence of, US troops on Mexican soil is not on the table." Having US troops on Mexican soil "is not a element of strategy that is being foreseen, not a part of the tremendously innovative ways in which Mexico and the United States have been using to fight transnational organized crime." No US troops has been Mexico's policy "for a very long time," he added.
Mexico has been sensitive about the issue of US troops since 1848, when the US seized half of Mexico's national territory in the Mexican-American War. That historic trauma has led Mexico to make non-interventionism a pillar of its foreign policy.
The US and Mexico do cooperate in the struggle to suppress the drug trade, mostly through information exchanges, but also via the $1.4 billion Plan Merida aid package. But neither Mexican troops nor American aid dollars have been able to suppress the outbreak of bloody prohibition-related violence plaguing Mexico since President Felipe Calderon deployed the military against the cartels in late 2006.
(This article was published by StoptheDrugWar.org's lobbying arm, the Drug Reform Coordination Network, which also shares the cost of maintaining this web site. DRCNet Foundation takes no positions on candidates for public office, in compliance with section 501(c)(3) of the Internal Revenue Code, and does not pay for reporting that could be interpreted or misinterpreted as doing so.)