A Houston area drug stakeout turned into a violent melee Monday, leaving one man dead and one suspect and one undercover sheriff's deputy wounded. The as yet unidentified dead man becomes the 45th person to die in US domestic drug law enforcement operations so far this year.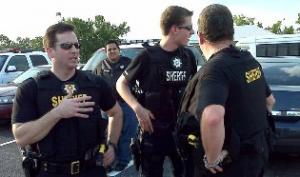 According to a
Houston Chronicle
account relying on police sources, members of a multi-agency narcotics task force in northwest Harris County were watching a semi-trailer truck believed to contain drugs when several vehicles approached the semi and opened fire in an apparent bid to hijack it. The cops on the scene immediately began firing on the hijackers.
A man sitting in the cab of the semi was shot and killed during the fracas, the undercover sheriff's deputy was shot in the knee, and one of the hijackers was hit by a police car and injured after firing on police. A second sheriff's deputy was injured when his vehicle collided with an empty school bus as he raced to the scene.
Police at the scene refused to confirm that the dead man in the semi was a confidential informant. They also refused to identify the deputy who was shot because he was working undercover as part of a High Intensity Drug Trafficking Area task force.
A sheriff's department spokesman at the scene said he did not know what kind of drugs were in the truck, but he added that several arrests had been made. No word yet on any charges, though.