For three days last weekend, the towering Westin Bonaventure Hotel in downtown Los Angeles was awash with drug reform activists running from presentation to presentation and chatting in hallway confabs while discussing myriad topics on the streets outside. It was the Drug Policy Alliance's 2011 International Drug Policy Reform Conference, and it was the largest yet, with more than 1,200 people from around the country and the world in attendance.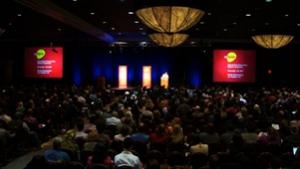 Police officers from Brazil and the US (mainly members of
Law Enforcement Against Prohibition
) mingled with drug user activists from Latin America and Europe, college kids from
Students for Sensible Drug Policy
sat down with grizzled veteran activists, former drug war prisoners discussed issues with elected officials, Southeast Asian harm reductionists swapped stories with American social workers, East European AIDS workers talked shop with their counterparts from the US and Canada, Mexican poets shared panels with American city council members. And medical marijuana and pot legalization activists, especially from host state California, were everywhere.
In all, people from more than 30 countries and probably every state in the union, representing dozens of different drug reform, harm reduction, human rights, reproductive rights, and other groups flooded into Los Angeles to get the latest skinny on drug reform, drug legalization, and ending drug prohibition.
The reform conference is so large and the issues so complex and interconnected that for a single person to attend all the sessions would require an army of clones. Over the three-day conference, five or six fascinating panels went on simultaneously throughout the day, not to mention the mobile workshops (medical marijuana, Skid Row, juvenile justice) taking attendees on themed city tours, the open rooms where various groups maintained a continuous presence, the evening events, and, last but not least, the Thursday night "End the Drug War" rally in MacArthur Park that drew several thousand people.
Some highlights follow.
Republican Presidential Candidate Gary Johnson
In the conference's opening plenary session, former New Mexico Gov. Gary Johnson, who is struggling to gain traction in the Republican presidential nomination contest, found a friendly audience and threw it some red meat. Marijuana should be legalized and pot prisoners freed, he said to loud cheers and applause.
Johnson, who has been an advocate of drug legalization since his days as governor, said it was his stance on drug reform, rather than his record as governor or his advocacy of small government, that gets him noticed. "That's the marijuana guy," people always say when they see him, he said.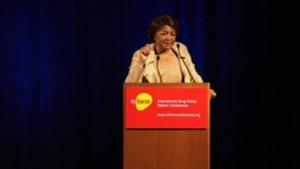 Politicians are behind the curve when it comes to drug reform, Johnson said. "Fifty percent of Americans support legalizing marijuana," he said. "But zero percent of the universe of politicians support this." Certainly not his Republican rivals, who look at the drug wars ravaging Mexico and compete to see who can sound tougher. "They all talk about border violence and adding guns to the equation instead of looking at the root of the problem, which is prohibition," he said.
The only other Republican presidential contender to take a firm line on ending the drug war is Texas Rep. Ron Paul. But Paul and Johnson together are only polling at about 10% of the Republican electorate, with Paul polling the majority of that. Johnson said he was concentrating on the New Hampshire primary, where he hopes a strong showing can keep his candidacy and his strong anti-drug war message alive.
[DRCNet Foundation and the Drug War Chronicle do not take positions on candidates. As a precaution, this article was produced by StoptheDrugWar.org's lobbying arm, Drug Reform Coordination Network.]
Mexico's Symbol of Drug War Resistance Tells Us It's Our Fight, Too
Read our feature story on this
here
.
Whither Medical Marijuana?
In the context of renewed federal repression aimed at medical marijuana production and distribution, not just in California, but in medical marijuana states around the country, panels on the future of medical marijuana understandably generated great interest. A nationally-focused panel noted that the Justice Department has not explained itself and its apparent change of heart, nor has it given any indication whether the raids and other actions against medical marijuana will continue, stop, or escalate.
Meanwhile, a second, California-centric panel worried about medical marijuana's future in the Golden State and bruited about ideas about how best to preserve it.
"There is a historic backlash against medical marijuana, and that is a result of our success," said Don Duncan, Southern California leader for
Americans for Safe Access
. "We made a strategic decision to go to localities, but now is the time to go back to Sacramento because we could lose ground in the towns. It is time for the legislature to adopt statewide regulations to protect safe access," he said.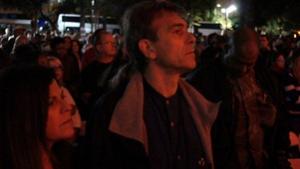 "We need to authorize storefront distribution, protect cultivators, and protect the civil rights of patients," Duncan continued, citing housing discrimination, employment problems, and custody issues.
But it's going to be a tough battle in Sacramento, he suggested. "Even the Democrats say the dispensaries are out of control, the patients don't look sick, the doctors are too lenient," he said. "Our base of support in Sacramento is eroding."
"I will call out my own party," said Assemblyman Tom Ammiano (D-San Francisco). "It's time to get militant. There is a pro-marijuana vote, it's bipartisan, and it's populist."
There is support for medical marijuana on the right side of the aisle in Sacramento, too. "Very few, even in my party, still believe in Reefer Madness," said Assemblyman Chris Norby (R-Orange County).
Pending California Marijuana Initiatives
A session on pending California marijuana legalization, decriminalization, and medical marijuana initiatives was useful for sorting out the competing proposals, with representatives of all serious proposals at the table. Here they are:
The
Repeal Cannabis Prohibition Act
would simply repeal the sections of California law prohibiting marijuana. It would also create a California Cannabis Commission to create a system of regulated cannabis commerce.
"If conduct is not prohibited, the feds cannot force a state to prohibit it," said Joe Rogoway, one of the initiative's sponsors. "This initiative eviscerates cannabis prohibition in California, all the laws would be wiped off the books," he said.
The
Regulate Marijuana Like Wine
initiative would also repeal marijuana prohibition and set up a system of regulated distribution. It mandates the Department of Alcoholic Beverage Control to set up regulations for sales by 2013. It is sponsored by, among others, long-time Libertarian and legalization activist Steve Kubby and retired Orange County Superior Court Judge Jim Gray.
"We've done our homework," said Gray. "We address those things that scare voters. We will have 10,000 valid signatures in two weeks," he vowed.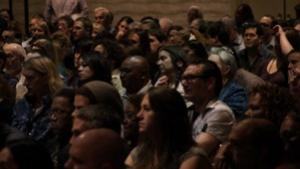 Unlike the two legalization initiatives above, political consultant Bill Zimmerman's
Marijuana Penalties Act
would not legalize it, but would extend California's current decriminalization of up to an ounce to up to two ounces.
"California is not ready to legalize marijuana," argued Zimmerman, "but a strong majority agree that private adult use should not result in jail time. It seems sensible to try to move the ball forward this year."
Then there is the
California Economic, Environmental, Hemp Restoration Act of 2012
, a project of the Budget Economic Environmental Protection Alliance, which would legalize industrial hemp, medical marijuana, and recreational marijuana for people 21 and over. This initiative is still in the drafting phase.
"We want to create green jobs now," said initiative promoter Mark O'Hara. "Let's legalize industrial hemp and adult marijuana."
Finally, the folks who brought you Proposition 19, the
California Coalition for Cannabis Policy Reform
,
have decided to forego another legalization bid for 2012, and are instead working on an initiative to regulate medical marijuana statewide.
"We want to create a robust environment for our members," said
United Food and Commercial Workers
(UFCW) cannabis division head Dan Rush. "Our initiative isn't done yet, but we want to be inclusive, serve people, the industry, and patients."
Rush was the only one to mention the 800-pound gorilla in the room: the mountain of cash it will take for any of the initiatives to make the ballot, let alone win in November 2012.
"We need to raise $15 million for the initiative and legislative action," he said. "We need a broad coalition beyond our movement."
More to Come
This article has touched on only a tiny fraction of what was discussed in Los Angeles last weekend. Look for more about and/or inspired by the conference in the near future. In the meantime, the Drug Policy Alliance deserves praise for once again putting together a reform conference that is staggering in its breadth and depth, and, as just about everyone agreed, maximally inspirational.