The Dutch cabinet announced last Friday that it is moving ahead with plans to effectively bar foreigners from the country's famous cannabis coffee shops. It plans to turn the coffee shops into private clubs limited to 1,500 members, who can only join if they are over 18 and can prove they are Dutch citizens or legal residents, according to Dutch News.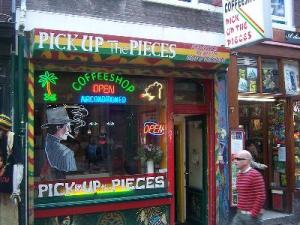 While the government must win approval from the Dutch Supreme Court for its ban on foreigners, it hopes to accomplish as much by limiting membership in the clubs. Proprietors will be forced to choose between local customers and foreign visitors.
The Netherlands has for more than 30 years tolerated the possession and sale of small amounts of marijuana, turning the country into a mecca for marijuana aficionados from around the world. But the conservative coalition government, tilted even further to the right after the last election by the addition of the far-right anti-immigrant party of politician Geert Wilders, is now tightening the screws in a bid to reduce drug tourism and what it says is crime and nuisance associated with the coffee shops.
"In order to tackle the nuisance and criminality associated with coffee shops and drug trafficking, the open-door policy of coffee shops will end," the Dutch health and justice ministers wrote in a letter to the country's parliament last Friday.
But officials in Amsterdam, home to 220 of the country's 500 or so cannabis cafes, said the proposals to turn the cafes into provide clubs would actually increase criminality and reduce public safety. The city council there opposes the move.
"We are concerned about the problems that will arise from large-scale street dealing," said a spokesman for Amsterdam Mayor Eberhard van der Laan. "There are also health concerns, because with street dealing we cannot monitor the quality of the soft drugs or the age of the buyers," he said.
But the government said it would increase policing and deepen its efforts to drive organized crime out of marijuana sales and production. While coffee houses can sell marijuana, the law makes no provision for their suppliers. The industry is estimated to be worth about $3 billion a year.
The plan will be rolled out in the border provinces of Limburg, Noord Brabant and Zeeland by the end of the year and the rest of the country next year, government officials said. Border towns such as Maastricht and Terneuzen have already restricted the sale of marijuana to foreigners, while other towns, including Roosendaal and Bergen op Zoom have gotten rid of the coffee shops altogether.