In a case decided earlier this month, a Rhode Island superior court judge has dismissed marijuana cultivation and distribution and weapons possession charges against a registered medical marijuana patient. The state had argued that even if someone is a legal medical marijuana patient, he cannot possess a firearm. It is now deciding whether it will appeal the judge's ruling.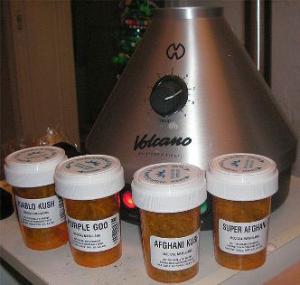 Dean Derobbio, the patient registered with the state, and his roommate and registered caregiver, Joseph Joubert, were arrested in January 2010 on charges of conspiracy to possess marijuana with the intent to sell it. Derobbio, who legally owned a 9mm hand gun found in his nightstand, was also charged with carrying a dangerous weapon while committing a crime of violence. The "crime of violence" was growing marijuana, according to prosecutors and police. That charge carries a mandatory minimum three-year prison sentence.
Under Rhode Island's 2006 medical marijuana law, a patient can grow or possess specified amounts of marijuana. The law does not mention guns, nor does it impose a limit on how many caregivers a patient can designate. Derobbio had two, Joubert and Joubert's mother.
Superior Court Judge Robert Krause noted those omissions when he threw out the charges earlier this month. "In my opinion," Krause said, "this is a poorly drafted statute, and I don't think... a defendant ought to be criminally liable for inartful draftsmanship."
He also rejected the state's contention that Derobbio could still be pursed on gun charges even if the court found he legally possessed both the pot and the pistol. The following exchange between Krause and Special Assistant Attorney General Michael McCarthy reported by the Providence Journal is illustrative:
"If I were to find that there was nothing unlawful about what these defendants had done by way of the medical-marijuana statute, and that they were within the framework of the statute, and did not exceed the amount of plants that are authorized, would you still pursue the prosecution [of the gun charge]?" Krause asked.

"With all due respect, your honor, I would," McCarthy said. He explained that he would prosecute it under a law that says you cannot legally grow marijuana while being in possession of a firearm. "And, your honor, if you are cultivating marijuana, and if you are in possession of a firearm, even though the law has stated you can grow marijuana, it is silent as to whether or not you can possess a firearm," McCarthy said.

"If you meet the requirements, if you have possession of plants that are within the legal limit under this marijuana act, and if you have a firearm at home, and you're not a convicted felon, both of these are legal, yes?" Krause asked.

"Yes," McCarthy said.

"But, nonetheless, you claim it's criminal conduct." Krause said.

"As is being intoxicated in possession of a firearm," McCarthy said.
Judge Kraus wasn't buying that argument. Nor did he agree with the state's contention that the 33 plants grown by Joubert and his mother were outside the limits of the law. The Rhode Island law limits caregivers to 24 plants, but does not limit the number of caregivers a patient may have.
"The statute doesn't make it unlawful for two caregivers to have the same patient, does it?" Krause said, adding, "What a wonderfully drafted statute we have. I don't know who drafted this thing."

It appears the state will appeal at least that portion of the decision. "Nobody can have collectively, or otherwise, more than 24 plants," said Stacey Veroni, criminal division chief in the attorney general's office. "This collective grow issue is an issue."

"It appears that the state is trying to circumvent the legislation's intent," said Derobbio's attorney Michael Campopiano. "Judge Krause is absolutely interpreting it right," he said.

Chalk one up for Rhode Island medical marijuana patients.