The US Supreme Court Monday upheld the search of a Kentucky man's apartment after police broke in without a search warrant because they said they smelled burning marijuana and heard sounds suggesting he was trying to destroy the evidence. The decision in Kentucky v. King overturned a Kentucky Supreme Court ruling in favor of the apartment resident, Hollis King, who was arrested after police entered his apartment and found drugs.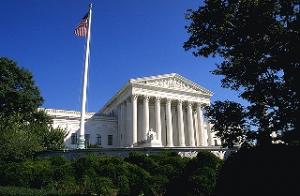 Fourth Amendment doctrine holds that police must obtain a search warrant to search a residence unless there are "exigent circumstances." In the current case, the exigent circumstance was that, after police knocked on the apartment door, they heard noises they said suggested evidence was being destroyed.
The Kentucky Supreme Court had held that police could not use the exigent circumstances exception because they themselves had created the exigent circumstance by knocking on the door. The US Supreme Court begged to differ.
In his opinion for the 8-1 majority, Justice Samuel Alito wrote that people have no obligation to answer the door when police knock or to allow them to come in if they have opened the door. In such cases, police would have to persuade a judge to issue a search warrant.
But that's not what King and fellow apartment residents did. They started scuttling around suspiciously upon hearing police announce their presence--or at least, police said they did. "Occupants who choose not to stand on their constitutional rights but instead elect to attempt to destroy evidence have only themselves to blame," Alito wrote.
Only Justice Ruth Bader Ginsburg dissented, arguing that in ruling for the police, the court was giving them a way to get around the search warrant requirement in drug cases. "Police officers may now knock, listen, then break the door down, never mind that they had ample time to obtain a warrant," she wrote.
Oddly enough, King was not the target of police. Lexington police had set up a controlled drug buy on the street outside the apartment building, but when they attempted to arrest the suspect, he fled into the building. When police arrived in the hallway, the suspect had vanished, and all police saw was two apartment doors. When they smelled the odor of pot coming from King's apartment, they chose that door. The original suspect was in the other apartment. They arrested him later.
[Scott Morgan, editor at our Speakeasy blog and associate director of Flex Your Rights, has a piece on Huffington Post discussing the Supreme Court decision. Click here to read it.]