[Editor's Note: This year, Drug War Chronicle is trying to track every death directly attributable to drug law enforcement during the year. We can use your help. If you come across a news account of a killing related to drug law enforcement, please send us an email at [email protected].]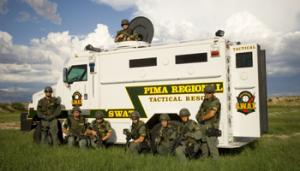 In a mid-morning drug raid May 5, a Pima County SWAT team executing a search warrant shot and killed a 26-year-old Afghan and Iraq war veteran after he confronted the intruders with a weapon in his hand. Jose Guerena become
the 27th person to die in US domestic drug law enforcement operations so far this year
. (Actually, he was the 25th, but the Pima County Sheriff's office has been so dilatory in releasing information that we logged two more drug war deaths before we were able add this one to the list.)
According to the initial police account
, when SWAT officers broke down the door of Guerena's home, which he shared with his wife and young child, he confronted them and opened fire. "The adult male had a long rifle, opened fire on the SWAT team. The SWAT team returned fire and the male is pronounced deceased. The woman and the child are unharmed," said Pima County Sheriff's Deputy Jason Ogan.
Six days later
, police admitted that while Guerena, a former Marine, was holding an AR-15 assault rifle, the safety was on and he had not fired it. They also admitted that SWAT officers fired 71 rounds at Guerena in seven seconds. It was also
later reported
that even though Guerena's wife called 911 as soon as he was shot and that EMTs arrived two minutes later, deputies never allowed them to treat Guerena, citing security concerns. (Recall that in the Jared Loughner mass killing in Tucson earlier this year, EMTs
were
allowed to treat the wounded in a matter of minutes despite the chaos of that scene.)
In an interview with
KGUN9-TV
, Guerena's wife, Vanessa, explained that her husband had worked the night shift at his job at a mine and been asleep only a couple of hours when the raiders arrived. When she saw armed men in her house pointing guns at her, she said, "Please don't shoot, I have a baby... and I yell 'Jose! Jose! Wake up!'"
The SWAT team didn't identify itself before breaking in her door and entering her home, Guerena said. "You're saying [they] only yelled SWAT after the shootout?" KGUN9asked. "Oh, yes! Yes," said Guerena.
Her husband grabbed a gun to protect himself from what he thought were home invaders, she said.
Police said Guerena's home was one of four targeted in simultaneous raids and that a large amount of cash was found in one of them. It wasn't Guerena's. All they have said about what they found there was that it was "evidence pertinent to the case."
But at a Wednesday memorial service for the veteran of deployments in Iraq and Afghanistan, an attorney retained by his family, Christopher Scileppi, told
FOX11-TV
that Guerena was not part of any drug conspiracy. "What I do know is that they collected phones, computers the family has conveyed to me that they're confident that there is nothing that will be of inculpatory incriminating information," said Scileppi.
No lawsuit has yet been filed, but Scileppi is laying the groundwork. "We'll be sending our investigators out to find out what the neighbors saw, what mutual observers saw because this was obviously a big deal certainly to the Pima County sheriff's office," he said.