by Bernd Debusmann, Jr.

Mexican drug trafficking organizations make billions each year smuggling drugs into the United States, profiting enormously from the prohibitionist drug policies of the US government. Since Mexican president Felipe Calderon took office in December 2006 and called the armed forces into the fight against the so-called cartels, prohibition-related violence has killed more than 38,000 people, including more than 15,000 last year. The increasing militarization of the drug war and the arrest or killing of dozens of high-profile drug traffickers have failed to stem the flow of drugs -- or the violence -- whatsoever. The Merida initiative, which provides $1.4 billion over three years for the US to assist the Mexican government with training, equipment and intelligence, has so far failed to make a difference. Here are a few of the latest developments in Mexico's drug war: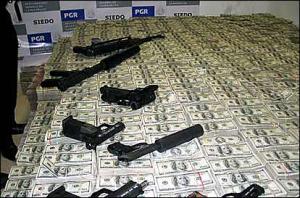 Wednesday, May 4
At the border crossing between Ciudad Juarez and El Paso,
a Juarez traffic cop was arrested
after authorities discovered approximately 25 pounds of cocaine in a hidden compartment that had been built into the rear cargo area of his vehicle.
Thursday, May 5
In Hidalgo,
20 suspected Zetas were arrested
when police discovered they were meeting in the small community of Pri Chacon. Among those captured were Raul Guerrero, who is alleged to be in charge of narcotics distribution in the city of Pachuca, and five municipal police officers from several locations.
Friday, May 6
In Escobedo, Nuevo Leon,
at least four people were killed
and 15 wounded after a ferocious fire fight between army personnel and suspected Zetas. The fighting began when a large group of up to 50 gunmen attacked an army convoy after having lured them to the ambush location with several vehicles. Several torture tools -- labeled with Z's -- were recovered from a truck which was abandoned by the attackers, along with 60 magazines, three assault rifles and bulletproof vests.
Sunday, May 8
Across Mexico,
tens of thousands of Mexicans took to the streets
to protest the drug-related violence that has plagued the country. The main march began in the city of Cuernavaca, from where an estimated 150,000 protesters marched to Mexico City's Zocalo. The march was organized by poet and journalist Javier Sicilia, whose son was recently murdered by suspected cartel assassins.
On an island on Falcon Lake,
12 suspected Zetas were killed
after a clash with Mexican marines. One marine was killed in the incident, which took place on the Mexican side of the reservoir. Authorities suspect that the island was used to transport marijuana to the United States via speedboats. The area became notorious in September 2010 when a US citizen, David Hartley, was shot and killed while riding a jet ski in the area.
Monday, May 9
In the city of Durango,
gunmen left six headless bodies
outside a high school. Threatening messages were left spray painted on a nearby wall, but were quickly painted over by police. The content of the message and the identity of the bodies have not been released.
In Guerrero,
ten people were murdered
across five municipalities. In one incident, two people were kidnapped and murdered just moments after the gunmen shot dead two other individuals outside a social security office.
In Tijuana,
a suspected Sinaloa cartel cell leader was captured
after being seriously wounded in a gunfight with state police forces. Hector Hernandez Guajardo, also known as "El Guicho" is thought by Mexican authorities to have been involved in 465 murders in the Baja California.
Tuesday, May 10
In Durango, authorities
discovered eight more bodies
buried in a network of mass graves near the city of Durango. These bodies bring the total number discovered buried in the area to 188. Some of the remains are said to be almost four years old, while some of the more recent ones may have been killed as recently as three months ago.
In the town of Guadalupe Distrito Bravos, near Ciudad Juarez,
two severed heads
were discovered atop a cement wall in the morning. Two other bodies -- that of a man and woman -- were found nearby with their throats slashed. The town has been without any local law enforcement officers since the town's only officer was kidnapped in December. She has not been heard from since.
In Mexico City, it was revealed that a
Canadian citizen was murdered
in Mexico City on May 3. Local media are reporting that the murder may be related to a double-homicide in the state of Jalisco, where the victim had been living for a time.
[Editor's Note: We cannot accurately tally the drug prohibition-related killings in Mexico at this time. El Universal, the only Mexican newspaper that was doing so on a regular basis, has stopped. We will have to rely on official pronouncements on the death toll, and will report them when they happen. Below are the numbers through the end of last year. With more than 1,400 reported dead in April alone, this year's toll could well exceed last years. As of this month, we believe the total death toll has surpassed 38,000.]
Total Body Count for 2010: 15,273
Total Body Count for 2009: (approx.) 9,600
Total Body Count for 2008 (approx.): 5,400
Total Body Count for 2007 (approx): 4,300
Total Body Count for Calderon's drug war through 2010: 34,883