Special to the Chronicle by Sharon Letts

After more than six years of litigation, and three years of appeals for manufacturing and conspiracy to manufacture and distribute cannabis, Dr. Marion "Mollie" Fry and her husband of 25 years, civil attorney Dale Schafer, attended a hearing at the US courthouse in Sacramento Monday week, in which their bonds were revoked and they were given a the date of May 2 to surrender to serve five-year federal prison terms.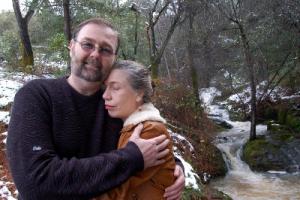 Fry and Schafer's prior home located in the hills just north of Sacramento was raided in 2001, with 34 plants confiscated - what they believed to be well below the 99 plant limit set forth by local ordinances.
According to Schafer, the couple had never grown more than 44 plants in a given year. A little known fact, he explained, is that under federal law more than 100 plants grown in a five year period, accumulatively, is cause for the mandatory five-year sentence, overriding state laws.
Dr. Fry, who had gone through a radical mastectomy just three years prior, had made the decision to grow her own medicine, medicating through her illness, surgery and continued to medicate from myriad complications from chemotherapy until the arrest. Schafer suffers from hemophilia and failed back syndrome, is under constant care, and had also medicated with cannabis legally.
According to Fry and Schafer, prior to the arrest they had conferred numerous times with local officials, state Attorney General Bill Lockyer, and El Dorado County Sheriff's Detectives Timothy McNulty and Robert Ashworth, regarding the legality of their cannabis production for their own use and for Fry's patients.
"We weren't selling the medical cannabis to my patients," Fry said. "We had staff and were charging $10 for delivery only, and that's a common practice today."
Ultimately it was staff, Schafer said, who broke rules, and ultimately they were responsible for all actions.
"We fired anyone who wasn't following the code of the law," Schafer said. "One week before we were raided, two undercover federal agents attended a workshop for 215 cardholders we were holding at the local Grange Hall. The chef teaching the class allowed patients to go home with some of the edibles made, including the agents."
Fry said comments were made during the class that may have been misunderstood by the agents, saying it was a comedy of errors with a not so amusing ending.
"The judge wouldn't allow any medical evidence. They wouldn't let us tell the jury I was sick, or that I was a doctor," Fry said. "They wouldn't allow that I was helping sick patients. Ironically, two years before the raid, local authorities asked me to tell them who of my patients were 'really' sick, and who wasn't." I told them it wasn't my job to police my patients, and that everyone who came to me had legitimate health issues. They have treated us like criminals."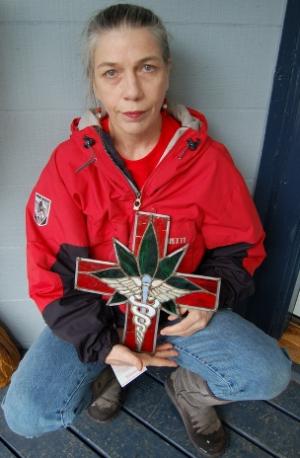 Fry's lineage includes seven generations of doctors. Family notables include her grandfather, Dr. Francis Marion Pottenger, celebrated for being at the forefront of curing tuberculosis in the early 1900s, and founding the field of internal medicine in the process.
Her grandmother studied under Carl Jung in the 1950s, founding a Jungian institute in Houston in the 1960s, while her mother also became a physician in the 1950s.
"When I was young my mother told me I could do whatever I choose to do with my life. She told me the United States of America is a free country," Fry explained. "But, I was outspoken on this topic."
Lack of education on the topic of medicinal cannabis, Fry and Schafer agree, is the true culprit in their court case, and the couple chose activism to further the cause, something that may have contributed to their demise.
"When I was in the thick of helping people, I knew it was the right thing to do," she said. "Cannabis helped me immensely when I was going through cancer."
After ten years of defending themselves the couple has more questions than answers.
"Cannabis is proven medicine. Why would the state of California create laws based on what the people want, and then allow the federal Government to override them?" Fry asks. "I had cancer, we were growing medicine. I was helping people."
Dr. Fry's license to practice has been revoked for some time now, as has her husband's license to practice law. The couple's grown children with grandkids have moved back home to help with financs and save the family home. A Pay Pal account has been set up for donations. It can be accessed
here
. "Cool Madness," a book written about the trial by author Vanessa Williams is available
online through StoptheDrugWar.org
(publisher of this web site), Amazon.com or other online booksellers, or directly at the
"Cool Madness" web site
. Donations and correspondence of support can also be sent to the family, P.O. Box 634, Cool, CA 95614.