With a pair of separate reports released Tuesday, the Drug Policy Alliance (DPA) and the Justice Policy Institute (JPI) have issued a damning indictment of drug courts as a policy response to drug use. Instead of relying on criminal justice approaches like drug courts, policymakers would be better served by moving toward evidence-based public health approaches, including harm reduction and drug treatment, as well as by decriminalizing drug use, the reports conclude.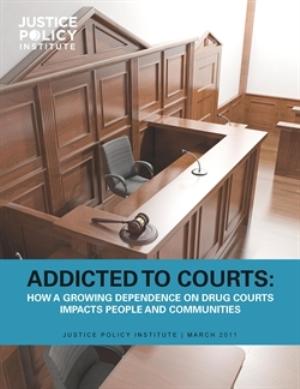 Since then-Dade County District Attorney Janet Reno created the first drug court in Miami in 1989, drug courts have appeared all over the country and now number around 2,000. In drug courts, drug offenders are given the option of avoiding prison by instead pleading guilty and being put under the scrutiny of the drug court judge. Drug courts enforce abstinence by imposing sanctions on offenders who relapse, including jail or prison time and being thrown out of the program and imprisoned on the original charge. The Obama administration wants to provide $57 million in federal funding for them in its FY 2012 budget.
Through organizations like the
National Association of Drug Court Professionals
(NADCP), the drug court movement has created a well-oiled public relations machine to justify its existence and expansion. NADCP maintains that the science shows that
drug courts work
and even maintains a convenient
response to criticisms
leveled by earlier critics.
The Chronicle contacted NADCP for comment this week, but representatives of the group said they were still digesting the reports and would issue a statement in a few days.
But in a Monday teleconference, DPA, JPI, and the
National Association of Criminal Defense Lawyers
(NACDL), which issued its own critical report on
America's Problem-Solving Courts
in 2009, slashed away at drug court claims of efficacy and scientific support. Drug courts are harsh on true addicts, don't benefit the public health or safety, and are an inefficient use of criminal justice system resources, they said.
"The drug court phenomenon is, in large part, a case of good intentions being mistaken for a good idea," said Margaret Dooley-Sammuli, DPA's Southern California state deputy director and co-author of the DPA report,
Drug Courts are Not the Answer: Toward a Health-Centered Approach to Drug Use
. "Drug courts have helped many people, but they have also failed many others, focused resources on people who could be better treated outside the criminal justice system and in some cases even led to increased incarceration. As long as they focus on people whose only crime is their health condition, drug courts will be part of the problem -- not the solution -- created by drug war policies," she said.
"Even if drug courts were able to take in all 1.4 million people arrested for just drug possession each year, over 500,000 to 1 million people would be kicked out and sentenced conventionally," Dooley-Sammuli added. "Drug courts just don't make sense as a response to low-level drug violations."
The DPA report found that drug courts have not demonstrated cost savings, reduced incarceration, or improved public safety. Previous "unscientific and poorly designed research" supporting drug courts has failed to acknowledge that drug courts often "cherry pick" people expected to do well, that many petty drug law violators choose drug courts because they are offered a choice of treatment or jail and drug courts thus are not diverting large numbers of people from long prison sentences, or that, given their focus on low-level drug violators, even positive results for individuals accrue few public safety benefits for the community.
Not only are drug courts' successes unproven, DPA said, they are often worse for the people participating in them. Their quick resort to incarceration for relapses means some defendants end up serving more time than if they had stayed out of drug court. And defendants who "fail" in drug court may face longer sentences because they lost the opportunity to plead to a lesser charge. In addition, the existence of drug courts is associated with increased arrests and imprisonment because law enforcement and others believe people will "get help" if arrested.
Worst, the DPA report found, drug courts are toughest on those who most need treatment for their addictions. Because of their use of quick sanctions against those who relapse, the seriously addicted are more likely to end up incarcerated for failing to stay clean, while those who don't have a drug problem are most likely to succeed. Drug courts typically don't allow what Dooley-Sammuli called the "gold standard" of treatment for opiate addiction, methadone or other maintenance therapies.
Drug courts should be reserved for cases involving offenses against persons and property committed by people who have substance abuse problems, while providing other options such as probation or treatment for people arrested for low-level drug law violations, the report recommended. It also called for bolstering public health systems, including harm reduction and drug treatment programs, to deal with drug use outside the criminal justice system, and for decriminalizing drug use to end the problem of mass arrests and incarceration.
"Drug courts are not a true alternative to incarceration," said Natassia Walsh, author of the JPI report,
Addicted to Courts: How a Growing Dependency on Drug Courts Impacts People and Communities
. "They are widening the net of criminal justice control. Even the mere existence of a drug court means more people are arrested for drug offenses, which brings more people into the criminal justice system, which means increased costs for states and localities, as well as for offenders and their families."
The JPI report found that providing people with alternatives like community-based drug treatment are more cost-effective and have more public safety benefits than treatment attached to the criminal justice system, with all its collateral consequences.
"It is shameful that for many people, involvement in the criminal justice system is the only way to access substance abuse treatment in this country," said Walsh. "We need to change the way we think about drug use and the drug policies that bring so many people into the justice system. The dramatic increase in drug courts over the past 20 years may provide talking points for so-called 'tough-on-crime' policymakers; however, there are other, better options that can save money and support people and communities. More effective, community-based programs and services that can have a positive, lasting impact on individuals, families and communities should be available."
"All three of our reports have some things in common, " said the NACDL's Elizabeth Kelly. "They recognize that substance abuse is a public health issue not appropriate for the criminal justice system to handle, they recognize that these problem-solving courts cherry pick their participants, allowing them to inflate success rates, and they recognize that drug courts exclude the people who are most problematic and who have the most profound addictions," she said.
"It is fundamentally bad public policy to make the only means to treatment through the criminal justice system that stigmatizes and burdens the individual with all the collateral consequences of a criminal conviction," Kelly concluded.
The fight to avoid the drug policy dead end that is drug courts is on.