Ohio could be a major medical marijuana battleground next year, as two different initiative efforts aimed at the November 2012 ballot are getting underway and a bill is pending in the state legislature. If Ohio climbs on the medical marijuana bandwagon, it would be the second Midwest state to do so, after Michigan, which approved it via the initiative route in 2008.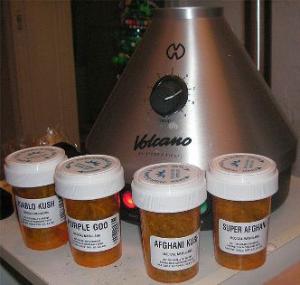 A medical marijuana bill,
House Bill 214
, was introduced in April and has been assigned to the Committee on Health and Aging, but given that a decade's worth of efforts to get a medical marijuana bill out of the legislature have yet to bear fruit, patients and advocates are moving forward with efforts to put the matter directly before the voters.
One initiative, the
Ohio Alternative Treatment Amendment
(OATA), was submitted to state officials Wednesday with more than twice the 1,000 signatures needed for the Attorney General to take the next step, approving the measure's summary language. That will take place in 10 days.
Organizers are already setting their sights on gathering the 385,000 thousand valid voter signatures needed to qualify for the 2012 ballot. They have until May to turn them in.
The OATA would modify the state constitution to allow doctors in a bona fide relationship with patients to recommend medical marijuana and offers protections to patients, caregivers, and physicians alike. Patients or caregivers could grow up to 12 plants and possess up to 3.5 ounces (or just under 100 grams) of processed marijuana.
[Editor's Note: The original version of this article incorrectly put that amount at 200 grams.]
Multiple caregivers could store their product in a "safe access center," and growers would be allowed to receive some compensation.
The second initiative getting underway, the
Ohio Medical Cannabis Act of 2012
(OMCA) would modify the state constitution to establish government agencies to regulate medical marijuana "in a manner similar to the system that has successfully overseen vineyards and adult beverages," according to an OMCA press release. The campaign has yet to turn in the initial 1,000 signatures and win approval of its summary language, but has delayed because although it has already gathered more than 2,500 signatures, it is making final changes in the initiative's language, said campaign spokesperson Theresa Daniello.
"Over the past few days, we've spent hours and hours Skype conferencing and going over the language," said Daniello. "There were things like if the police came in with a warrant, we want to make sure they check with the medical marijuana enforcement division to make sure no one in that house is a patient."
Getting it right was worth the delay, the Cleveland patient and mother of five said. "We're not in a huge rush." Organizers would probably hand in the signatures in a week or two, she added.
The OMCA would apply already familiar regulations, such as licensing, local option laws, and HIPAA patient privacy rules to medical marijuana. It would create an Ohio Commission of Medical Cannabis Control, which, like its counterparts in liquor control, would be charged with enforcing regulations and preventing diversion.
"The state of Ohio has a 77-year-old proven regulatory system under our liquor control laws that is one of the most effectively run in the country," said Daniello. "There are only 470 liquor stores in the state, one per county, and one more for each additional 30,000 residents, and counties can opt out, like dry counties do for alcohol. It would be like that. It's our goal that no patients be arrested," she added. "We want it out of the hands of the police and handed over to the division. We don't need guns, we need people who are educated."
Under the OMCA, patients with qualifying medical conditions who get a physician's recommendation would be able to possess up to 200 grams of medical marijuana and up to 12 mature and 12 immature plants. Patients would be registered with the state and provided with ID cards. Patients would be able to designate caregivers to grow for them.
"Both models are good," said medical marijuana patient and activist Tonya Davis. "Ohio patients want a safer alternative. The models are different, but we figure that between the bill at the legislature, and the two initiatives submitting language, we can come up with something that serves patients."
"We're trying to work together to keep the energy going the right way," said Daniello.
That would be great for patients like Chad Holmes, who underwent chemotherapy, radiation, and surgery for colon cancer, resulting in the removal of much of his digestive tract. He used medical marijuana to counter the side effects of nausea and severe pain, and found it to be the only medicine that allowed him to eat, maintain his strength, and function.

"Medical marijuana didn't cure me, but it allowed me to survive the cure long enough for it to work," he said. He has now been cancer free for over six years.

"Ohioans like Mr. Holmes face a terrible choice," said Daniello. "They can choose to suffer with the horrible, debilitating effects of their illness, or risk arrest and years in prison for using medical marijuana to relieve their pain and suffering."

But if either the legislature or the voters act, that dilemma for medical marijuana patients will be resolved. Look for a lot of action on medical marijuana in the Buckeye State in the next few months.

Money will be key. Peter Lewis, founder of Cleveland-based Progressive Insurance and a significant drug reform funder, issued a request for proposals for action on medical marijuana in May, but neither group appears to have offered one. Davis said she thought Lewis had turned his attention elsewhere, while Daniello said her campaign would likely contact him later.

"We're accepting support," Daniello said. "We had less than a week to respond to Peter Lewis's call for a request for proposals, and we decided that wasn't enough time. We need to show that we can act in a professional manner before we go back."

National presidential election year politics could help stir major funder interest, Daniello suggested. "2012 is a presidential year, and, as they say, as goes Ohio, so goes the nation," she said. "If the proper people realize that, the funding will come in."

It will have to for either of these initiatives to have a serious chance of making it to the ballot.