A California marijuana legalization initiative was approved Monday to start seeking signatures to place it on the 2012 ballot. The Regulate Marijuana Like Wine Act of 2012 campaign is being led by former Judge Jim Gray, Libertarian Party and pot legalization figure Steve Kubby, and activist William McPike.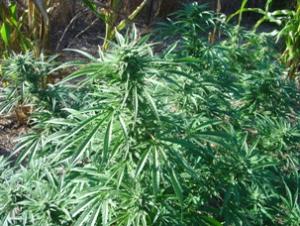 According to the state attorney general's
official summary
, the act would "decriminalize marijuana, sales, distribution, possession, use, cultivation, processing, and transportation by persons 21 or older." The initiative would also halt pending pot prosecutions for actions that would be legal if it were in effect, prohibit advertising (except for medical marijuana), and prohibit zoning restrictions on pot cultivation and processing.
Existing agricultural taxes and regulations would be applied to commercial marijuana cultivation. Individuals could produce up to 25 plants or 12 pounds of marijuana a year under a non-commercial exemption.
An accompanying fiscal impact statement said passage of the initiative could bring "savings of potentially several tens of millions of dollars annually" in not prosecuting and jailing pot people and "potentially hundreds of millions of dollars in net additional tax revenues."
Proponents have until December 19 to collect the signatures of at least 504,760 registered voters. That kind of massive effort is almost impossible to do without a large campaign treasure chest, but it's hard to know what kind of resources the campaign has because proponents have not yet filed any
campaign finance activity reports
with the secretary of state.
The Regulate Marijuana Like Wine initiative is only the first out of the gate. Backers of last year's Proposition 19, which fell short at the ballot box, are working on a new initiative for 2012, and there are likely to be other efforts as well. Which one or ones actually make it past the signature-gathering stage will depend on who finds the funding.