A municipal initiative that would make adult marijuana possession the lowest law enforcement priority in Portland, Maine, has handed in enough signatures to qualify for the November ballot, organizers said at a press conference Tuesday. Sensible Portland, the group pushing the measure, said it had turned in 2,100 voter signatures, well above the 1,500 needed for it to qualify.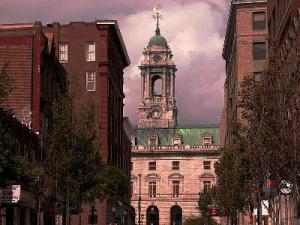 The measure would amend city statutes to codify that marijuana possession offenses committed by nonviolent adults 21 or older would be the lowest law enforcement priority for city police. The proposed ordinance is aimed at stopping police from fining or arresting people for pot or pot paraphernalia possession.
The possession of up to 2.5 ounces of marijuana is already decriminalized under state law, with a fine of up to $1,000. Pot paraphernalia possession is also decriminalized, with a maximum fine of $300. Possession of more than 2.5 ounces is considered possession with intent to distribute and is punishable by jail or prison time.
Sensible Portland leaders said they hoped the measure would spur "an adult conversation" about marijuana across the state and that the ultimate goal was marijuana legalization.
"To be clear, we hope that this measure is a step toward the eventual end of prohibition of marijuana in this country," said John Eder, a spokesman for Sensible Portland and a former Green Party state representative. "This local ordinance isn't a small thing," he added in remarks reported by the
Portland Daily Sun
.
"Most movements start locally, and this movement will have its effect on the state, and it will have its effect nationally, as Maine joins the chorus of states and cities that are going on record saying they want to end the prohibition of marijuana for persons over the age of 21," Eder continued.
The city clerk now has two weeks to verify that the 2,100 signatures turned in contain the 1,500 valid signatures needed to qualify. If that happens, the measure first goes to the city council, which can either vote to approve it or place it on the November 8 ballot.
Sensible Portland saw broad support for the measure during the signature-gathering campaign, said Anna Trevorrow, a former state Green Party chair. "We met with great response from Portland voters who were signing eagerly, who were not sure why marijuana was not already legal," she said, adding, "We feel that this goes beyond decriminalization."