[Editor's Note: This year, Drug War Chronicle is trying to track every death directly attributable to drug law enforcement during the year. We can use your help. If you come across a news account of a killing related to drug law enforcement, please send us an email at [email protected].]

Cook County Sheriff's deputies shot and killed a Chicago man last Thursday after an attempted drug bust in a suburban County Club Hills strip mall parking lot resulted in a gun fight and car chase that also left four deputies injured. Nyarko Johnson, 38, becomes the 31st person to be killed in US domestic drug law enforcement operations so far this year.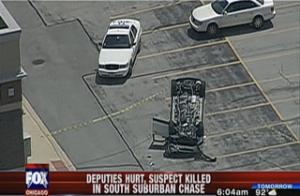 According to accounts from the
Chicago Sun-Times
and
Chicago Tribune
, undercover narcotics detectives got into an "altercation" with Johnson, who was the target of a drug investigation, and the operation spun "out of control." The Sun-Times cited Cooke County Sheriff's spokesman Steve Patterson saying Johnson fled the scene in his vehicle and attempted to strike one of the officers with the car.
Johnson, who was armed, was shot as he "attempted to injure our officers," Paterson said. Johnson continued driving his vehicle through parking lots and struck a police vehicle, causing it to flip over, injuring at least two officers. All of the injured deputies have since been treated and released.
Witnesses said the police vehicle had been chasing and bumping the back bumper of Johnson vehicle and gun shots were being exchanged. After Johnson's vehicle came to a halt, it was swarmed by officers with guns drawn. He had been hit multiple times by gun fire and died hours later at a local hospital.
The Sun-Times
later reported
that Johnson had an extensive arrest record, including a 1991 felony possession of a controlled substance rap to which he pleaded guilty and got probation; a 2001 trial for two counts of murder, one count of attempted murder, and two counts of aggravated discharge of a firearm, in which he was acquitted; a 2003 guilty plea to resisting police, which got him three days in jail; a 2008 guilty plea to aggravated assault that got him a year's probation; and a 2009 arrest for with possession of marijuana, unlawful possession of a controlled substance and aggravated unlawful use of a weapon in which the charges were dropped. Police also said he had recently pleaded guilty in federal court to narcotics conspiracy and was to surrender to serve a five-year prison sentence at the time he was killed.
Three other men were arrested at the scene and charged with possession of a controlled substance and delivery of a controlled substance (cocaine). Police said more charges may be pending.
The killing will be investigated by the Illinois State Police.