A Wisconsin narc crosses the line, and cops in Houston and Philadelphia pay for getting too greedy. Let's get to it: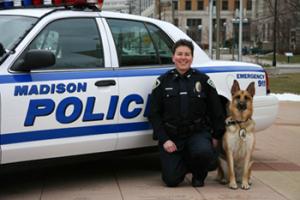 In Madison, Wisconsin,
a Madison Police officer has resigned in a negotiated settlement
as she was being investigated for alleged misconduct. Denise Markham, a 22-year veteran of the department, was assigned to the Dane County Narcotics and Gang Task Force, but had been on paid leave since June 2009, when an investigation into her activities commenced. The investigators found no evidence of illegal conduct, but found that she violated departmental policies by filing inaccurate reports, conducting improper searches, conducting improper seizures of private property, improperly handling seized drugs, and engaging in "overbearing, oppressive or tyrannical conduct." In other words, illegal conduct.
In Philadelphia,
two former Philadelphia police officers pleaded guilty Monday
to plotting to rip-off a suspected heroin dealer. Robert Snyder and James Venziale plotted with another former officer, Mark Williams, to stage a traffic stop as a pretext for stealing heroin from a supplier. Williams has pleaded not guilty. Venziale cooperated with prosecutors and faces a five year mandatory minimum sentence, while Snyder, who did not cooperate with prosecutors, faces a mandatory minimum 10 years on gun and drug charges. Sentencing is in May.
In Houston,
a former Harris County Sheriff's deputy pleaded guilty Monday
to stopping drug dealers and ripping-off their loads. Richard Bryan Nutt Jr., 43, pleaded to one federal count of extortion after getting caught in a Houston police sting operation. While in uniform, Nutt stopped a vehicle supposedly carrying drugs, and one of his co-conspirators entered the vehicle and retrieved a package containing two pounds of fake cocaine. The sting was set up after Houston police received information that someone was ripping off drug couriers. Nutt is free on bond pending sentencing in June. He's looking at up to 20 years in federal prison.