The Washington, DC, political news web site Politico.com reported Tuesday that Gary Johnson will end his campaign for the Republican presidential nomination and instead seek the Libertarian Party nomination. Citing Johnson campaign sources, Politico.com said that Johnson will make the announcement at a December 28 press conference in Santa Fe.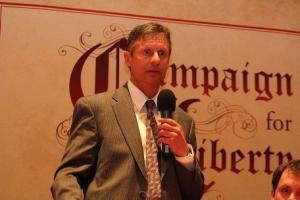 Calling news of the switch "the worst kept secret," Libertarian Party Chairman Mark Hinkle told Politico.com that Johnson had been in talks with Libertarian officials for months. "It looks like it's definitely going to come to fruition here," he said.
The former New Mexico governor's bid for the Republican nomination never got any traction and he never got above single digits in any polls. The low polling numbers keep him out of most debates -- unfairly, his campaign claimed -- further reducing his chances in a crowded field.
Johnson has a
strong drug reform platform
, which calls outright for legalization of marijuana and a harm reduction approach to other drugs.
"Abuse of hard drugs is a health problem that should be dealt with by health experts, not a problem that should be clogging up our courts, jails, and prisons with addicts," the platform says. "Instead of continuing to arrest and incarcerate drug users, we should seriously consider the examples of countries such as Portugal and the Netherlands, and we should ultimately choose to adopt policies which aim to reduce death, disease, violence, and crime associated with dangerous drugs."
Although it's no shoo-in, Johnson could well win the Libertarian nomination. While there are
a handful of other contenders
, none of them has Johnson's national stature. And while party stalwarts daydream of a Ron Paul or Jesse Ventura candidacy, Paul is busy fighting for the Republican nomination and says he has no plans to seek a third party nomination, and Ventura is incommunicado in Mexico.
If he wins the nomination, not only could Johnson use the campaign as a bully pulpit for his drug policy ideas, his candidacy could have an impact on the two-party presidential race, especially in his home state of New Mexico, which went big for Obama in 2008. According to a
Public Policy Polling survey
conducted earlier this month, Johnson would pull 23% in a contest with Obama (44%) and Romney (27%) and he would pull 20% in a contest with Obama (45%) and Gingrich (28%). Obama is currently polling well against all the Republican candidates and can probably carry the state, but a third party Johnson candidacy would almost ensure an Obama victory in a state he can ill afford to lose next year.
(
This article was published by StoptheDrugWar.org's lobbying arm, the Drug Reform Coordination Network, which also shares the cost of maintaining this web site. DRCNet Foundation takes no positions on candidates for public office, in compliance with section 501(c)(3) of the Internal Revenue Code, and does not pay for reporting that could be interpreted or misinterpreted as doing so.)