North Carolina's drug laws, which severely punish people who traffic in opiates, are yielding harsh prison sentences for people possessing or trafficking small quantities of prescription pain pills. That is leading to renewed debate in the Tar Heel State about whether the laws are too harsh.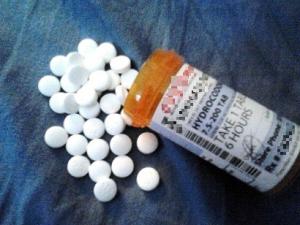 Under North Carolina's opium law, which was designed to attack heroin trafficking, anyone caught with more than four grams of opium, heroin, or an opium derivative faces a mandatory minimum prison sentence of between six and seven years. But as the
Wilmington Star News
reported, the four-gram limit means people caught with as few as four Lorcet tablets, five Percocets, or six Vicodin are subject to those draconian punishments.
The sentences increase with the quantities of drugs in question. Having between a half ounce and an ounce of prescription pain pills can earn a seven-to-10-year sentence, while having more than an ounce garners between 19 and 23 years. A single pill bottle full of pain pills could be enough for that latter sentence.
The penalties for opiates are much more severe than for other drugs under the North Carolina law. Trafficking an ounce to 199 grams of amphetamines has a two-year mandatory minimum, while the same quantity of cocaine has a three-year mandatory minimum. When it comes to marijuana, to get the same mandatory minimum as five or six pain pills, one would have to be caught with a ton or more of pot.
While some relatives of pain pill overdose victims have lobbied for harsher penalties, even some North Carolina prosecutors say the punishments are already too extreme.
"You can literally end your life in prison on a handful of pills," said Chris Thomas, an assistant district attorney in Brunswick County. "When the legislature enacted the trafficking law back when they did, I don't think they ever intended it to apply to prescription drugs. That was when heroin was a big problem," he told the Star News. "But it's one of those things that's on the books, and it's a tool that we're going to utilize."
New Hanover County Assistant District Attorney Janet Coleman, who handles drug cases, said many people she has prosecuted for pain pills had no prior criminal record. "None, zero, not even a speeding ticket," she said. "They are otherwise law-abiding citizens who end up in this nightmare."
[Editor's Note: Why prosecute people with those laws then? Prosecutors have the discretion to not do so.]
The issue has gained the attention of state lawmakers, but has so far gone nowhere. A bill in the 2008 legislature would have allowed some some convicted traffickers to get out after serving half their sentence if they lacked a violent criminal history and did not have a firearm when the offense was committed, in addition to meeting other criteria, but it died in committee.