American undercover agents, primarily with the DEA, have laundered or smuggled millions of dollars in drug proceeds from Mexican drug trafficking organizations as part of their investigations into how the cartels operate, The New York Times reported Sunday. The newspaper cited "current and former federal law enforcement officials."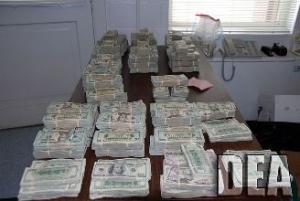 While the DEA conducts similar operations in other countries, it had not done so in Mexico since 1998, when, after a cross-border drug sting offended Mexican sensibilities, permission for such operations there was rescinded. But that changed after Mexican President Felipe Calderon declared his bloody war against the cartels.
The agents took shipments of hundreds of thousands of dollars in cash across borders and deposited them in traffickers' accounts or shell accounts set up to launder the funds. Their activities allowed the cartels to launder funds for months or even years while investigations proceeded.
As the Times noted, "The high-risk activities raise delicate questions about the agency's effectiveness in bringing down drug kingpins, underscore diplomatic concerns about Mexican sovereignty, and blur the line between surveillance and facilitating crime."
"Building up the evidence to connect the cash to drugs, and connect the first cash pickup to a cartel's command and control, is a very time consuming process," explained one anonymous former DEA official. "These people aren't running a drugstore in downtown LA that we can go and lock the doors and place a seizure sticker on the window. These are sophisticated, international operations that practice very tight security. And as far as the Mexican cartels go, they operate in a corrupt country, from cities that the cops can't even go into."
But as the Times noted, "It is not clear whether such operations are worth the risks. So far there are few signs that following the money has disrupted the cartels' operations, and little evidence that Mexican drug traffickers are feeling any serious financial pain. Last year, the DEA seized about $1 billion in cash and drug assets, while Mexico seized an estimated $26 million in money laundering investigations, a tiny fraction of the estimated $18 billion to $39 billion in drug money that flows between the countries each year."
The DEA money laundering operations raise concerns similar to those raised by members of Congress about a Bureau of Alcohol, Tobacco & Firearms (ATF) effort, Operation Fast and Furious, in which ATF allowed low-level smugglers to buy guns in the US and transport them to Mexico in a bid to find higher-ranking cartel operatives. ATF lost track of hundreds of those guns. Some turned up at Mexican crimes scenes and two were found on the US side of the border where a Border Patrol agent had been shot to death.